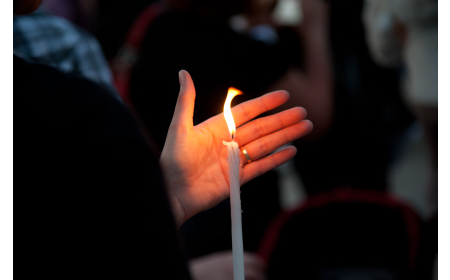 Families, Friends, and Residents Remember Teens Killed in Tragic Accident at Vigil (VIDEO & PHOTOS)
Police continue to investigate a fatal Damascus car accident that killed three Clarksburg High School teens on Tuesday.
Last night, families, friends and residents mourned the tragic loss of Jacob Dennis, Patrick Shifflet, and Cary Greene at a vigil held at Difference Makers Church in Damascus.
Friends and family spoke at the vigil. According to a WJLA report, Steven, brother of Patrick Shifflet, said; "Last thing I said to Pat was I love you…He said I love you and he drove away. And I didn't know that was the last time I'd ever see him."
Local media outlets shared moments of the emotional vigil on social media.
At the vigil for the teens you hear a mix of music and loud sobs. Community is devastated. pic.twitter.com/dgq25yKthv

— Tom Roussey (@tomrousseyABC7) June 8, 2016
At 10: Hundreds gather at vigil for 3 Clarksburg HS students killed in crash. One of the saddest I've ever attended pic.twitter.com/JqSlhWvg2h

— Lauren DeMarco FOX 5 (@ldemarcofox5) June 9, 2016
The #Clarksburg community mourns the loss of three teens killed in a car accident #clarksburgstrong @wusa9 #news pic.twitter.com/15g5vsO3Mo

— Ileana Diaz (@IleanaMDiaz) June 9, 2016
A heartbreaking story: #Clarksburg community holds vigil for 3 teens killed in car ax #clarksburgstrong @wusa9 #news pic.twitter.com/zkiv0OYXxu

— Ileana Diaz (@IleanaMDiaz) June 9, 2016