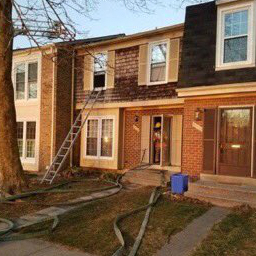 Family of Five Displaced After Fire; Home Lacked Smoke Alarms
A Montgomery Village family of five was displaced Friday morning after an attic fire caused about $25,000 worth of damage, fire officials said.
The townhouse did not have smoke alarms, said Pete Piringer, spokesman for the Montgomery County Fire and Rescue Service.
Fire officials were called to the townhouse in the morning to find light smoke in the attic area from a fire that had burned for some time, Piringer said.
Earlier, the family had found a fire in a ceiling fan and thought they extinguished it.
"To their dismay, the fire smoldered and burned into attic area," Piringer said.
The family was able to get out of the house.
Firefighters came and extinguished the fire, also checking neighboring townhouses. Occupants in those units were evacuated temporarily, he said.
After describing the fire on a recorded message, Piringer encouraged residents to call 911 for any kind of fire.
"It's not a bother," he said.
Piringer said in an interview that the Red Cross was contacted.
Here's how Piringer tweeted about the fire Friday morning:
20136 Torrey Pond Pl, Montgomery Village, fire in attic

— Pete Piringer (@mcfrsPIO) February 24, 2017
Update – Torrey Pond Pl, 3-level, MOR TH, FFs investigating smoke in house, all occupants are out

— Pete Piringer (@mcfrsPIO) February 24, 2017
Update – Torrey Pond Pl, FFs locate ceiling fan on fire, checking for extension in attic, smoke showing

— Pete Piringer (@mcfrsPIO) February 24, 2017
Update – Torrey Pond Pl, FFs located some extension in walls and attic, fire under control

— Pete Piringer (@mcfrsPIO) February 24, 2017
Update – Torrey Pond place, MV, mod/significant damage MOR TH, no injury, family 5 will be displaced

— Pete Piringer (@mcfrsPIO) February 24, 2017
MCFRS on scene in the 20100 blk. Torrey Pond Pl, small attic fire, fire out, 5 occupants (3 adults/2 kids) displaced, no inj. pic.twitter.com/C8twIpSI3S

— Pete Piringer (@mcfrsPIO) February 24, 2017
UPDATE (615a) 20136 Torrey Pond Pl; Cause, fan motor; delay in alarm; NO SMOKE ALARMS; family of 5 (3 adults/2 kids) displaced; Damage >$25K pic.twitter.com/BsHAikKTAA

— Pete Piringer (@mcfrsPIO) February 24, 2017