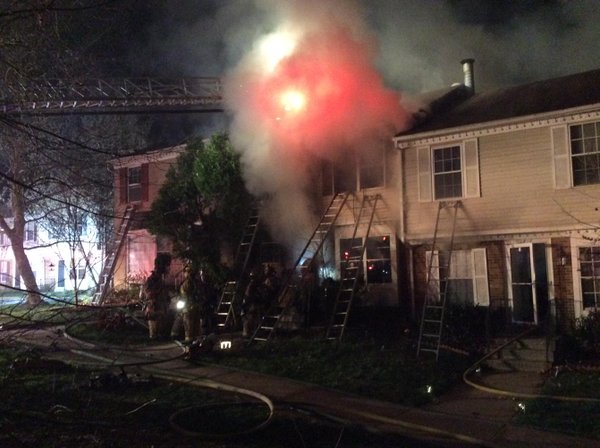 UPDATED: Fatal Townhouse Fire in Gaithersburg (PHOTOS & VIDEO)
UPDATED Battalion Chief Kevin Frazier is at the scene of last night's fatal fire. Frazier estimates damages from the fire at $600,000. He said the exact cause of the fire will not be known for a few days. Watch Frazier's video update, below:
Montgomery County firefighters are investigating a fatal townhouse fire in Gaithersburg.
Firefighters responded to the two alarm fire at 1812 Windjammer Way around 10 p.m. last night.
Fire and Rescue Spokesperson Pete Piringer said firefighters arrived at the scene to discover heavy fire conditions.
Piringer said two residents evacuated with their pets from the second floor of the townhome, and called 911. A third resident was unaccounted for as firefighters battled the blaze.
According to Piringer, firefighters assisted adjacent neighbors from their townhouses. He said over 100 firefighters responded to the intense fire, and they were able to contain the bulk of the fire to the townhouse of origin.
Inside, Piringer said firefighters discovered a deceased man covered with debris in the basement. His identity has not been released.
Today, crews are planning to shore up the structure so that investigators can continue their work. The first floor partially collapsed during the fire, according to Piringer.
The cause and origin of the fire remain under investigation, Piringer said.
FATAL FIRE – 1812 Windjammer Way, Woodland Hills, just after Midnite an adult male located in bsmt amongst debris pic.twitter.com/MVfnFKh5X8

— MCFRSNews (@MCFRSNews) March 30, 2016
FATAL FIRE – 1812 Windjammer Way, Woodland Hills, just after Midnite an adult male located in bsmt amongst debris pic.twitter.com/T5x1f2Qlk0

— Pete Piringer (@mcfrsPIO) March 30, 2016
Gburg TH fire; upstairs residents were alerted by smoke alarm, FFs rescued neighbors, Fire Investigators on scene pic.twitter.com/gcijsmrKje

— Pete Piringer (@mcfrsPIO) March 30, 2016
Windjammer Way, MOR TH, bulk of the fire knocked down, fire under control & contained to the townhouse of origin pic.twitter.com/MzYPRq5IxJ

— Pete Piringer (@mcfrsPIO) March 30, 2016
Windjammer Way, Gburg TH, all pets are accounted for, several residents were assisted/rescued from TH, >100 FFs OS pic.twitter.com/hQ6N2mgkRa

— Pete Piringer (@mcfrsPIO) March 30, 2016
More – Windjammer Way, FFs arrived w/ heavy fire on all levels in rear of MOR TH, FFs rescued several occupants pic.twitter.com/3pUxBmCeNV

— Pete Piringer (@mcfrsPIO) March 30, 2016
Windjammer Way, Gburg, 2-Alarm TH fire, all occupants are accounted for, 2 rescued, several pets missing, 100 FFs OS pic.twitter.com/y84Vs43KLk

— Pete Piringer (@mcfrsPIO) March 30, 2016
2nd Alarm – Windjammer Way, Gaithersburg, heavy fire, 2-story townhouse, firefighters have rescued 2 persons, ems evaluating

— Pete Piringer (@mcfrsPIO) March 30, 2016
Update – Windjammer Way, firefighters have made several rescues & searching for 1 unaccounted person

— Pete Piringer (@mcfrsPIO) March 30, 2016