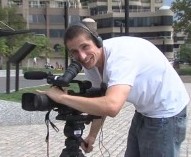 Featured Volunteer: Stephen Leard
Featured Volunteer, Stephen Leard
Like I said in previous blogs, a producer would be nothing without a dedicated volunteer crew to make his or her productions possible.
One of the most dedicated volunteers I have had the privilege to meet and work with at Montgomery Community Media is Stephen Leard.
When I first met him I was helping a fellow producer out as a Field Camera Technician and Stephen showed up, fresh out of class, ready to operate an additional camera when the producer realized we did not have enough media (SDHC cards) to get us through the day with 2 cameras and Stephen volunteered to drive from College Park to Rockville to pick up some cards. He came back and simply started operating the camera without a break.
This is when I decided that I would have Stephen on my crew on my next production and fortunately enough for me, he has helped me out ever since on several productions.
Stephen is eager to learn and to advance his techniques, whether it is as a Field Camera Technician or as a Field Editor FCP. I have witnessed firsthand how he has spent countless hours in an edit booth to create the best television program he can, learning along the way to constantly improve his work and make it look very professional. This was not for my production, but I still like seeing him at work and I am already looking forward to that program (Yala Fitness by Laurent Amzallag, soon on MCM 21).
I can only hope that one day I can repay Stephen for his hard work on my shows, by helping him on his shows as I think he will be a great Field Producer.