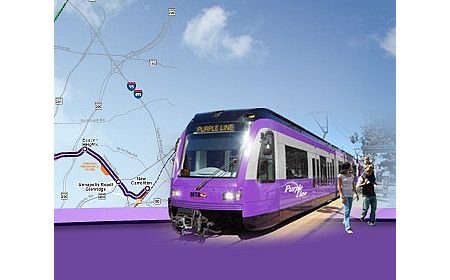 Federal Judge Ruling Could Delay Purple Line Construction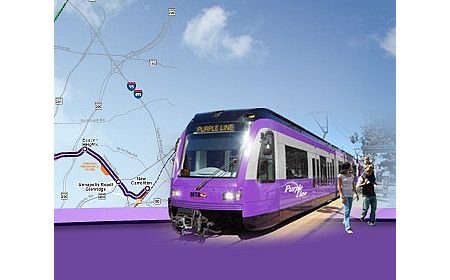 Purple Line construction could potentially be delayed following a federal judge's decision on Wednesday, which orders additional studies to take into account Metrorail's deterioration and declining ridership.
According to court documents, which can be found on Bethesda Beat's website, U.S. District Judge for the District of Columbia Richard Leon ordered the defendant, the  Maryland Transit Administration's  (MTA) "record of decision" be vacated until a supplemental environment impact statement (SEIS), a study that looks into the Purple Line route compared to alternatives, is completed.
Leon noted that he could not "turn a blind eye to the recent extraordinary events involving seemingly endless Metrorail breakdowns and safety issues."
"I find the defendants' failure to adequately consider WMATA's ridership and safety issues was arbitrary and capricious, and that these conditions create a 'seriously different picture' that warrant a SEIS," Leon wrote.  "While it is true that WMATA is a distinct entity from MTA, which would own and operate the Purple Line, this does not provide rational basis for the defendant's summary conclusion that a decline in ridership…has no effect on the Purple Line, given that the previous projections estimated over one quarter of Purple Line riders would use the WMATA Metrorail as a part of their trip," he wrote.
The judge also noted that WMATA's and FTA's "cavalier" attitude "raises troubling concerns about their competence as stewards of nearly a billion dollars of federal taxpayers' funds."
Following the decision organizations in favor of the Purple Line released statements in opposition to Leon. "This decision is judicial activism, pure and simple, and we strongly condemn it," Ronit Aviva Dancis, president of Action Committee for Transit (ACT), said.
Stewart Schwartz, executive director of the Coalition for Smart Growth, said in a statement that the delay could mean increased construction costs that could jeopardize "negotiated public-private finance structure."
"Yes, Metrorail is facing challenges over the next few years, but the Purple Line is a long-term investment and ridership forecasts are for 2040, by which time the Metro system will have completed major rehabilitation. Therefore, there is not a 'substantial change' in information related to the decision to advance the Purple Line," Schwartz said.
Plantiffs of the case include Chevy Chase residents and a nonprofit called Friends of the Capital Crescent Trail. They posted their reaction to the decision on social media.
"Common sense requires no less." – Judge Richard Leon#CommonSenseRequiresNoLess https://t.co/nM3dSym77p

— Save The Trail (@SaveTheTrail) August 4, 2016
Tonight we heard the trees cheering the #PurpleLineMD decision on the #CapitalCrescentTrail https://t.co/pEUJb91Kj9

— Save The Trail (@SaveTheTrail) August 4, 2016
Action Committee for Transit "condemns" federal judge's Purple Line ruling: https://t.co/aj9CT2Pzzw pic.twitter.com/AnGBqbBlic

— Bethesda Beat (@BethesdaBeat) August 4, 2016