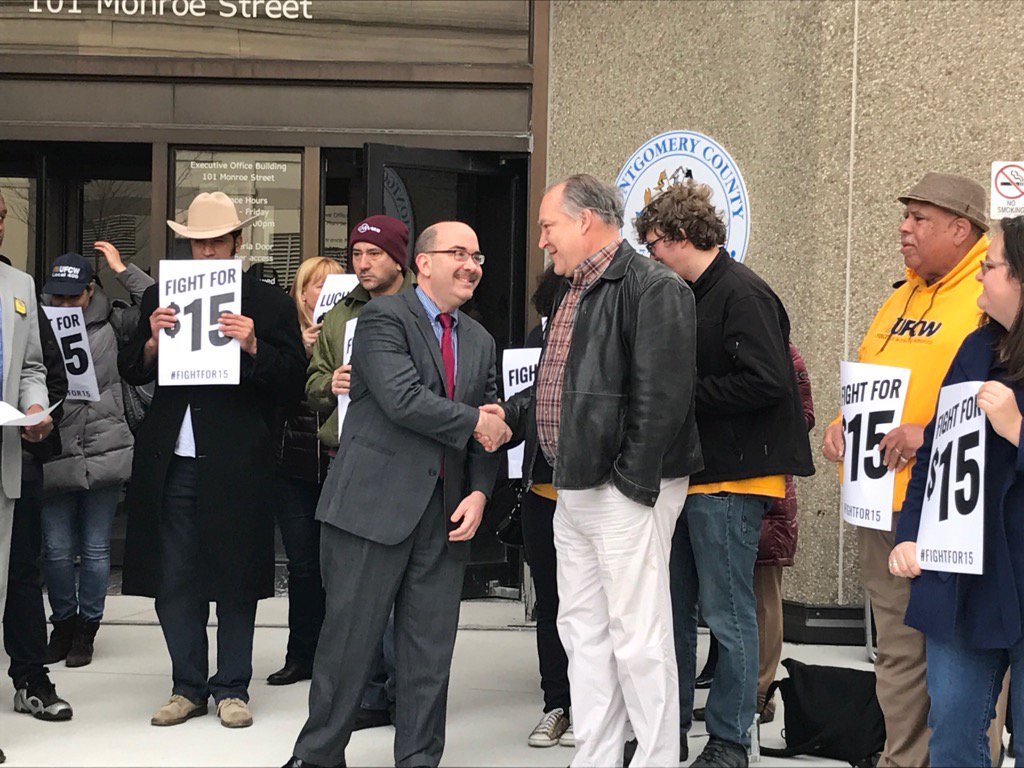 Fight for $15: Local Groups Ask County Executive Ike Leggett to Sign Minimum Wage Bill (VIDEO)
Representatives from several local organizations are asking Montgomery County Executive Isiah Leggett to sign a bill that would increase the minimum wage to $15 by 2020. The legislation was passed by the Montgomery County Council, 5-4, earlier this week.
On Jan. 19, over a dozen people from local labor, faith and community groups attended a news conference at the Executive Office Building in Rockville and many of them carried signs that read "Fight for $15." County Councilmembers Marc Elrich and George Leventhal were also in attendance and expressed their support for increasing the minimum wage.
"Raising the wage is one of the most important things we can do," said Elrich. "It's not about the dollar amount … it's what those dollars do."
You can watch the news conference in its entirety, below:
A community organizer for CASA, Rommel Sandino said there is some worry that Leggett might veto the bill.
A representative of UFCW Local 400, Dyana Forester is encouraging Leggett to sign the legislation as well.
During a virtual Town Hall meeting on Jan. 18, Leggett said over 90 percent of the businesses in Montgomery County are small employers.
"Many of these business owners have shared with me how moving to a $15 minimum wage by 2020 will cause them to reduce their staff, and cut back on contracted services thereby eliminating even more jobs in our County," Leggett wrote. "I did not see the need to move as quickly as we did with this current bill. We could have studied it more, analyzed the impacts, and extended the effective starting date for the measure, because the current measure does not take effect until 2020 or 2022, and possibly gained a broader consensus within the Council and throughout the County."
According to Leggett, he plans to make a decision about signing or vetoing the legislation within a week.
Coalition of organizations asking CE Leggett to sign minimum wage legislation. #Fightfor15 @mymcmedia pic.twitter.com/tqFk3Pmaqm

— Sonya Burke (@SonyaNBurke) January 19, 2017
The agenda for today's #Fightfor15 newser at EOB. @mymcmedia pic.twitter.com/F3K7TOH75Q

— Sonya Burke (@SonyaNBurke) January 19, 2017
.@georgeleventhal says he hopes CE Leggett signs legislation. @mymcmedia #Fightfor15 pic.twitter.com/XwjoxgBRQf

— Sonya Burke (@SonyaNBurke) January 19, 2017
.@MoCoCouncilMD member Elrich says this is about putting food on the table. @mymcmedia #Fightfor15 pic.twitter.com/10SMX9iZy7

— Sonya Burke (@SonyaNBurke) January 19, 2017