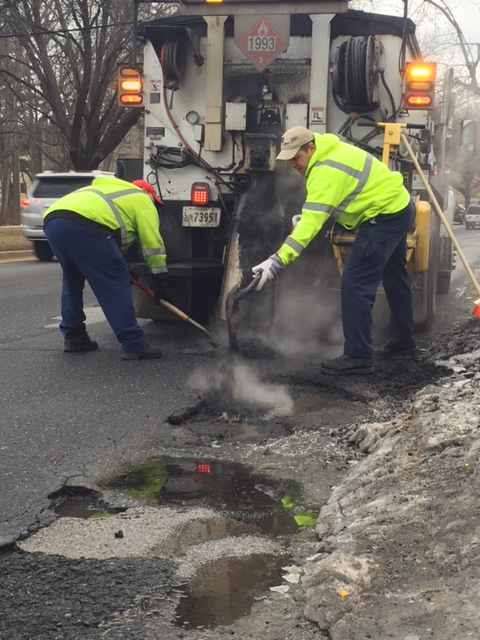 It's Finally Spring, It's Finally Pothole Season
Potholes, more prevalent in spring, are a year-round concern, the Montgomery County Department of Transportation says.
Four dedicated crews patrol in pothole trucks every weekday, weather permitting, responding to repair requests as well as stopping to fill any other potholes encountered.
The crews rely on repair requests made by residents through the County's MC311 system – either online, by phone (by calling 311 from within the County or 240-777-0311 from anywhere, Monday through Friday 7 a.m. to 7 p.m.) or through Twitter.
MCDOT maintains more than 5,200 lane miles of roads in Montgomery County. Over the last year, MCDOT received 2,462 requests to fill potholes, and proactively filled hundreds more.
MyMCMedia interviewed Jeff Knutsen, chief of field operations for the transportation department, in February. Here's what he had to say about the county's pothole plans:
If you see a pothole, here's how to report it:
The Maryland State Highway Administration  fills potholes, plows snow and maintains all numbered routes in the county, such as Maryland routes 355 or 97. Report potholes on state roads directly to SHA online or by calling 1-800-323-6742. In addition, municipalities, such as the cities of Rockville, Gaithersburg and Takoma Park, handle their own pothole repairs.
Once reported, MCDOT generally inspects and repairs potholes within three business days. For most potholes, MCDOT uses "cold patch" material. However, where potholes require more than a simple fix, multiple visits may be required that will take more than three days because the area may need to be excavated and repaved with asphalt.
With the return of warmer temperatures, MCDOT's Division of Highway Services has resumed seasonal pavement repairs, resurfacing, and installation of sidewalks and curbs. Drivers are urged to be cautious and patient when encountering roadway crews filling potholes and maintaining roadways.