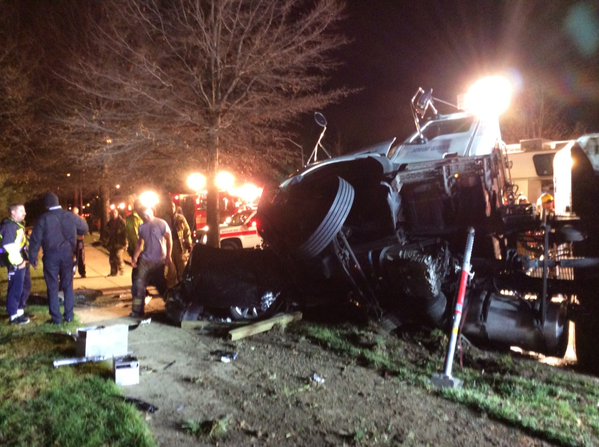 Fire and Rescue Respond to 40 Collisions and Receive 300 Calls for Service Within 24 Hrs (PHOTOS)
The last 24 hours have been especially busy for Montgomery County Fire and Rescue.
Between 6 a.m. Sunday, Nov. 29th and 6 a.m. Monday, Nov. 30th, there have been 40 collisions and MCFRS received 300 calls for service according to Fire and Rescue Spokesperson Pete Piringer.
"We average about 300 to 350 calls per day, but usually not on a Sunday and then it's a high percentage of collisions in the last 24 hours," Piringer said. "
A high percentage of those were overturned vehicles, people trapped, including a few pedestrians struck," he said.
Busy (last 24hr, 6a-6a) >300 calls for service >40 collisions, incl several overturned/entrapment & pedestrian stuck pic.twitter.com/LA6QpmVjYv

— Pete Piringer (@mcfrsPIO) November 30, 2015
Update – Cherry Hill Rd BLOCKED, 2 persons trapped in SUV were trapped & extricated, both w/ serious injuries pic.twitter.com/e3r38LPL8N — Pete Piringer (@mcfrsPIO) November 30, 2015
Update – Frederick Rd & Middlebrook Rd, pedestrian struck, EMS transporting, 1 adult male, Pri1, serious & life-threatening injuries

— Pete Piringer (@mcfrsPIO) November 30, 2015
Pedestrian struck – Frederick Road and Millbrook Road — Pete Piringer (@mcfrsPIO) November 30, 2015
Traffic Advisory – OL I495 Beltway near American Legion Bridge, collision, left side, some lanes Blocked

— Pete Piringer (@mcfrsPIO) November 29, 2015
Traffic advisory – Old Georgetown Road near to Tilden Lane, collision — Pete Piringer (@mcfrsPIO) November 29, 2015
Cyclist struck – on Bradley Lane near Wisconsin Avenue, Bethesda

— Pete Piringer (@mcfrsPIO) November 29, 2015
Traffic advisory – NB I270 on the ramp to I370, collision — Pete Piringer (@mcfrsPIO) November 29, 2015
Traffic advisory – SB I270 between Falls Rd & Montrose Road, collision with overturned vehicle

— Pete Piringer (@mcfrsPIO) November 29, 2015
Traffic Advisory – Clarksburg Road near Hyattstown Mill Rd., Little Bennett School, collision w/ entrapment, overturned vehicle — Pete Piringer (@mcfrsPIO) November 29, 2015
Traffic Advisory – OL I495 Beltway btwn Connecticut Av & Rockville Pike, collision, on left side

— Pete Piringer (@mcfrsPIO) November 29, 2015
Traffic advisory – OL I495 between Rt355 Rockville Pike & Old Georgetown Road, collision — Pete Piringer (@mcfrsPIO) November 29, 2015
Traffic advisory – Old Georgetown Road & Grand Park Avenue, collision

— Pete Piringer (@mcfrsPIO) November 29, 2015
Traffic advisory – NB I270 between Beltway I495 and Rockledge Drive, collision, on the ramp — Pete Piringer (@mcfrsPIO) November 29, 2015
Traffic advisory – Twinbrook Parkway and Parklawn Dr, collision

— Pete Piringer (@mcfrsPIO) November 29, 2015
Traffic advisory – OL I495 Beltway btwn University Blvd & Colesville Rd, collision — Pete Piringer (@mcfrsPIO) November 29, 2015
Traffic Advisory – from EB Falls Rd on ramp to SB I270, collision

— Pete Piringer (@mcfrsPIO) November 29, 2015
Update – 9800blk Georgia Av, N of Forest Glen Rd, overturned car, occupants are all out, EMS evaluating injuries, all appear NLT

— Pete Piringer (@mcfrsPIO) November 29, 2015
traffic advisory – Forest Glen Road and Georgia Avenue, collision with overturned vehicle — Pete Piringer (@mcfrsPIO) November 29, 2015
Traffic Advisory – Dale Dr & Crosby Rd , SS, collision with entrapment — Pete Piringer (@mcfrsPIO) November 29, 2015
It's been raining for a while creating wet/ slick road conditions throughout MoCo #mcfrs fire/rescue/EMS have responded to several wrecks — Pete Piringer (@mcfrsPIO) November 29, 2015
Pedestrian struck – Wayne Avenue & Georgia Ave., Silver Spring — Pete Piringer (@mcfrsPIO) November 29, 2015