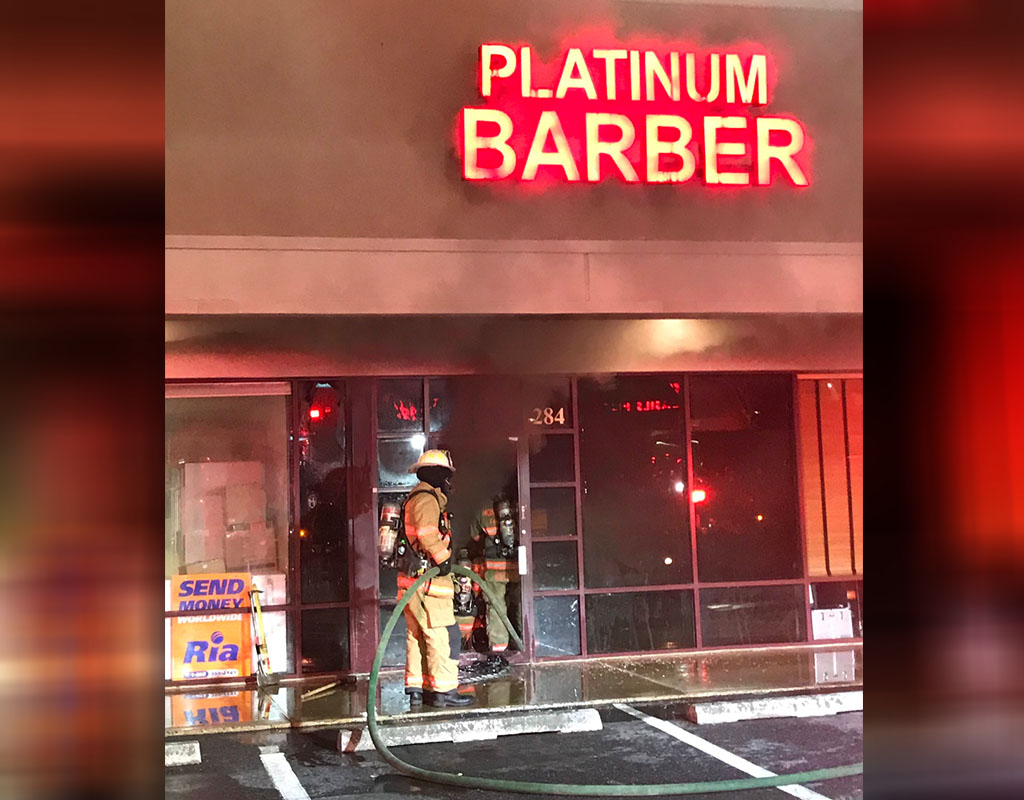 Fire Damages Gaithersburg Businesses, Destroys Barbershop
A fire has destroyed a Gaithersburg barbershop and brought significant damage to a number of businesses in Gaitherstowne Plaza near North Frederick Avenue and Chestnut Street.
According to Pete Piringer, spokesperson for Montgomery County Fire & Rescue Services, more than 75 firefighters were on the scene after 5 a.m. on Tuesday responding to a fire that originated at a cutting work station in Platinum Barber.
(2nd Alarm) 510a) 200blk N. Frederick Ave. near Chestnut Street, Gaithersburg, platinum barbershop, pic.twitter.com/2jynmi1p9c

— Pete Piringer (@mcfrsPIO) May 14, 2019
Piringer said on Twitter that nobody was injured at the scene and the health inspector was notified.
Although the fire was contained to Platinum Barber, Piringer said that other businesses — including Deshi Bazar, Signature Salon, Kenny's Sub Shop, and Gaithersburg Animal Hospital — were significantly damaged from water and smoke. The animals at the hospital are safe, Piringer tweeted.
Update – Gaitherstowne Plaza SC, N Frederick Av, Gburg, 2nd Alarm, Platinum Barbershop, significant damage at barbershop & water/smoke damage at Deshi Bazar, Signature Salon!& Animal (animals ok, dogs & cats sheltered in place) pic.twitter.com/6HO7uLixLJ

— Pete Piringer (@mcfrsPIO) May 14, 2019
Piringer estimates around $300,000 worth of damages caused by the fire, and some of the businesses in the area are closed as a result. A power strip at Platinum Barber likely caused an electrical fire, Piringer tweeted.
Update – 2nd Alarm Gaitherstowne SC, 200blk N Frederick Av; several businesses affected/closed; fire damaged primarily contained to barber shop; Cause, electrical, likely power strip; Area of Origin, barber shop, cutting work station; Damage, ~$300K; 75 FFs responded; no injury pic.twitter.com/lEPAWqvyOg

— Pete Piringer (@mcfrsPIO) May 14, 2019
Many businesses in the area are damaged, and as a result of the fire, the health inspector has ordered Platinum Barber to close.
Gaithersburg Animal Hospital is, however, open today and the damage to their business was mostly contained to its front doors.
Mohd Obaied, the owner of Deshi Bazar, a South Asian grocery store, said that the business is still open, but the ceiling has been damaged by smoke.
Ivan Humberson, the fire marshal for the City of Gaithersburg, said Signature Salon and Kenny's Sub Shop were damaged from water but will reopen.