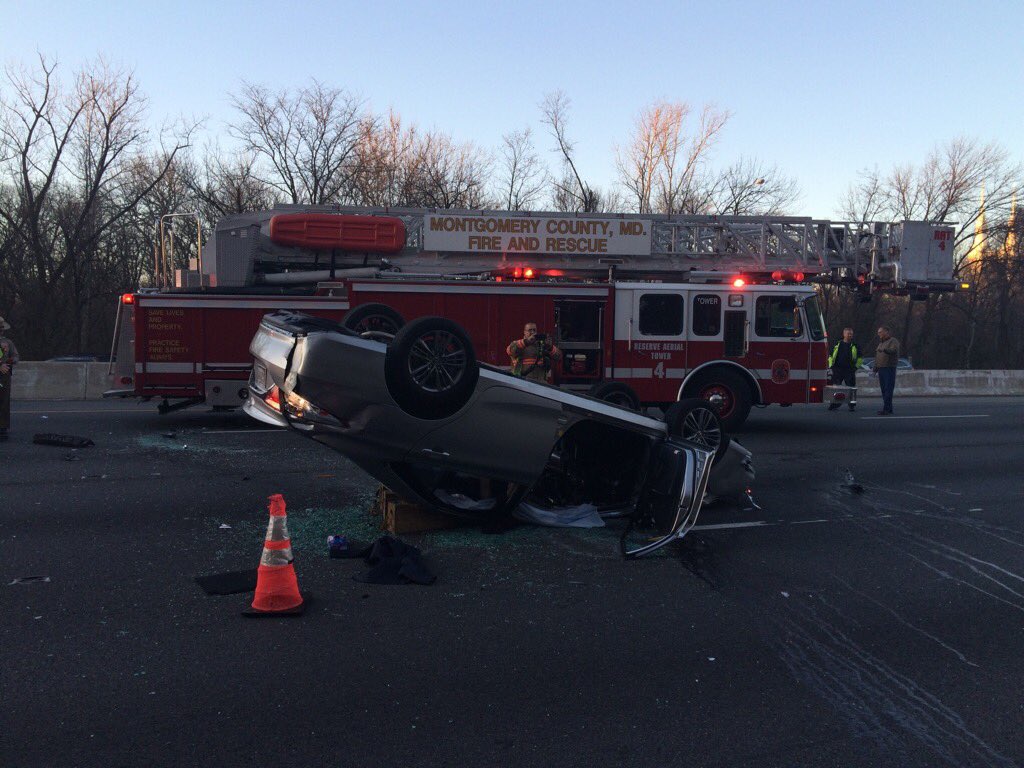 Fire Truck Struck By Passing Vehicle on Beltway (VIDEO & PHOTOS)
Montgomery County Fire and Rescue Services unit were dispatched at around 4 p.m. on Wednesday to a collision on the inner loop of the beltway between Connecticut Avenue and Georgia Avenue, responding to a personal injury collision.
According to Fire and Rescue Spokesperson Pete Piringer, one person was treated and transported with non serious injuries.
At around 4:15 p.m., while firefighters were at the scene, a passing motorist's vehicle struck a fire truck that was serving as a blocking unit to the original crash. The motorist's vehicle overturned and collided with another vehicle, Piringer said.
The driver of the overturned vehicle was trapped, received immediate attention, and was extricated and transported to a local hospital with potentially life threatening injuries, Piringer said.  All lanes of the Beltway were shut down for a short time when crews were responding.
Two additional people were also involved in the accident and suffered non-life threatening injuries. No firefighters were injured.
Additional EMS units were called to the scene to assist, while all lanes were temporarily blocked. State Highway Administration crews and Maryland State troopers were also on the scene to help with clean-up.
All lanes are now open.
More..4p MCFRS PE707 & TW719 (blocking) on scene of PIC, when motorist struck TW719 & overturned, total 4 inj, no FF pic.twitter.com/uc4qlbeKl1

— Pete Piringer (@mcfrsPIO) January 6, 2016
U/D- Beltway MCFRS Tw719 was a 'blocking' unit on scene of crash, when struck, total 3 cars, 3 transports, 1 serious pic.twitter.com/idMROgHgOd

— Pete Piringer (@mcfrsPIO) January 6, 2016
More..4p MCFRS PE707 & TW719 (blocking) on scene of PIC, when motorist struck TW719 & overturned, total 4 inj, no FF pic.twitter.com/uc4qlbeKl1

— Pete Piringer (@mcfrsPIO) January 6, 2016
Traffic Update – IL I495 between Connecticut Av & Georgia AV – ALL LANES OPEN – good work by SHA & MSP

— Pete Piringer (@mcfrsPIO) January 6, 2016
Update – I495 Beltway collision involving MCFRS TW719 UPDATED INFO – call MEDIA INFO HOTLINE 240.777.2442 pic.twitter.com/gvUMPa7Kxu

— Pete Piringer (@mcfrsPIO) January 6, 2016
Traffic advisory – IL I495 btwn Connecticut Av & Georgia Av, earlier crash at all lanes blocked, NOW 1 lane gets by to the right

— Pete Piringer (@mcfrsPIO) January 6, 2016
Update – I495 btwn Conn & Georgia Av, involves fire rescue apparatus TW719 (blocking unit) was struck, no FF inj pic.twitter.com/7J4mGXNZ5O

— Pete Piringer (@mcfrsPIO) January 6, 2016
Traffic advisory – Beltway I495 IL btwn Connecticut Avenue and Georgia Avenue, collision with entrapment, some lanes blocked n

— Pete Piringer (@mcfrsPIO) January 6, 2016