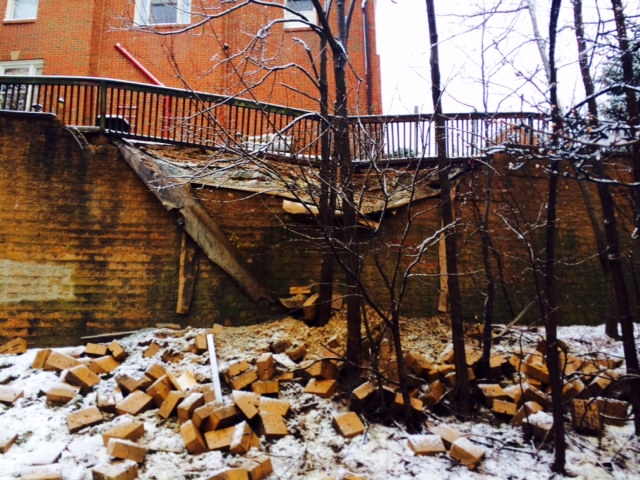 Retaining Wall Collapse in Kentlands (PHOTOS)
UPDATED Montgomery County fire rescue units are on the scene of a partial retaining wall collapse in Gaithersburg along Quince Orchard Road and Ridgepoint Place in the Kentlands community.
Public Information Officer Pete Piringer of the Montgomery County Fire and Rescue Service says two homes along Ridgepoint Place are being evacuated as a precaution and the utilities are being shut off to those homes because of a possible "ground shift." He said fire rescue was first alerted of a hazardous condition involving the "significant collapse of a retaining wall" at 4:20 p.m. today (March 30). No one has been injured, Piringer said.
According to Piringer, a total of three adult residents and two dogs are being evacuated from the two units in the 100 block of Ridgepoint Place as a precaution. He said there is no sign of structural damage to the homes. He said eastbound Quince Orchard Road is closed at Hillstone Drive and Pawnee Drive as a precaution as well. As for the cause of the collapse, Piringer said presumably the wet weather and mud may have played a factor.
Representatives from the city of Gaithersburg's police department, public works department and planning and code administration were on the scene shortly after the fire department responded.
"City personnel remained at the scene until late in the evening and the KCA [Kentlands Citizens Assembly] had begun temporary measures to stabilize the situation," said John Schlichting, Gaithersburg's planning and code administration director.
At the scene, yellow tape ropes off a wide portion of the sidewalk where some bricks have tumbled down in the grassy area above it as well.
City police have shut down Quince Orchard Road, eastbound from Hillstone Road to Pawnee Drive, for safety reasons and the road may be closed for sometime. Drivers are advised to use an alternative route.
Gaithersburg City Manager Tony Tomasello said he was waiting for an update on the wall's condition from city inspectors.
No other information has been released to date.
Wall Collapse (retaining) – 2 homes in Kentlands (110,112 RidgePoint Pl) being evacuated as precaution pic.twitter.com/qePsKeHgDa

— Pete Piringer (@mcfrsPIO) March 30, 2014
110 & 112 Ridge Point Pl, Gaithersburg, Kentlands neighborhood having utilities shut as precaution, poss ground shift pic.twitter.com/sTzhv11lnM

— Pete Piringer (@mcfrsPIO) March 30, 2014
U/D City of Gaithersburg Public Works, HOA @mcfrs on scene awaiting PEPCO & Gas Co – 2 homes evacuated pic.twitter.com/Wa72j4jzEi

— Pete Piringer (@mcfrsPIO) March 30, 2014
Traffic Advisory – EB 124 ( Quince Orchard Rd ) CLOSED at Hillstone Rd/McDonald Chapel Dr due to wall collapse pic.twitter.com/k2zIcuYYEK

— Pete Piringer (@mcfrsPIO) March 30, 2014
110 & 112 Ridge Point Pl, Gaithersburg, Kentlands neighborhood having utilities shut as precaution, poss ground shift pic.twitter.com/sTzhv11lnM

— Pete Piringer (@mcfrsPIO) March 30, 2014

Related: