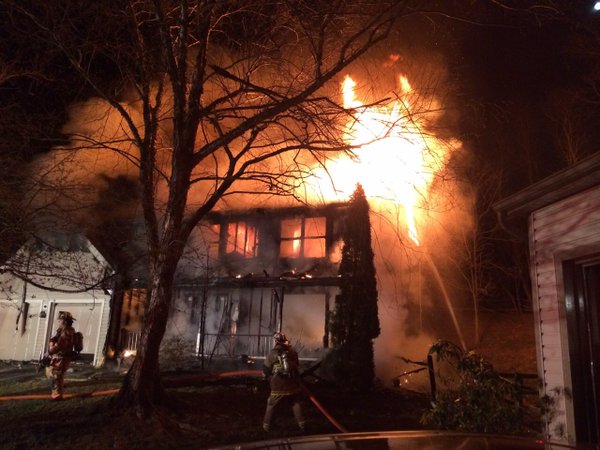 UPDATED: Firefighters Battle Blaze at Damascus House
UPDATED Dozens of Montgomery County firefighters battled a blaze in the 9400 block of Primrose View Court in Damascus on Monday night that has displaced a family of five.
Fire and Rescue Spokesperson Pete Piringer said three people escaped the house with no injuries.
According to Piringer, there is significant fire damage to the two-story single family house. Piringer said there was a concern that the structure could collapse because of the fire damage.
Piringer said the cause of the fire is discarded smoking material in some outside mulch. He said damages from the fire are estimated at $600,000.
9400 Primrose View Ct; Cause, discarded smoking materials (outside mulch); Damage, >$600K; Family of 5 displaced pic.twitter.com/fYRvHK8sqB

— Pete Piringer (@mcfrsPIO) March 22, 2016
Damascus Hse fire, >85 FFs on scene, FFs initiated transitional fire attack, exterior knock down & interior attack pic.twitter.com/kl4cAPEx6w

— Pete Piringer (@mcfrsPIO) March 22, 2016
More… Primrose View Ct, Plantations II; cause, under investigation; origin, possibly fast moving exterior fire pic.twitter.com/8Rz1UuGCYT

— Pete Piringer (@mcfrsPIO) March 22, 2016
Primrose View Ct, 2-sty single family house, significant damage, 3 occupants escaped in injured, 1 family displaced pic.twitter.com/JaaeYykJYj

— Pete Piringer (@mcfrsPIO) March 22, 2016
Primrose View act, Damascus, FFs encountered heavy fire upon arrival, 3 occupants were home & got out, no injuries pic.twitter.com/m8iTp3lJ4l

— Pete Piringer (@mcfrsPIO) March 22, 2016
Update – Primrose view Court, FFs have evacuated bldg due to structural integrity & danger of collapse, safety collapse zone established

— Pete Piringer (@mcfrsPIO) March 22, 2016
Update – Primrose View Court, Damascus, FFs made transitional fire attack, bulk of fire knocked, collapse zone being established, no inj

— Pete Piringer (@mcfrsPIO) March 22, 2016
Update – Primrose view Court, FFs on scene w/heavy fire, all occupants out

— Pete Piringer (@mcfrsPIO) March 22, 2016
9400 Primrose View Ct, Damascus, house fire

— Pete Piringer (@mcfrsPIO) March 22, 2016