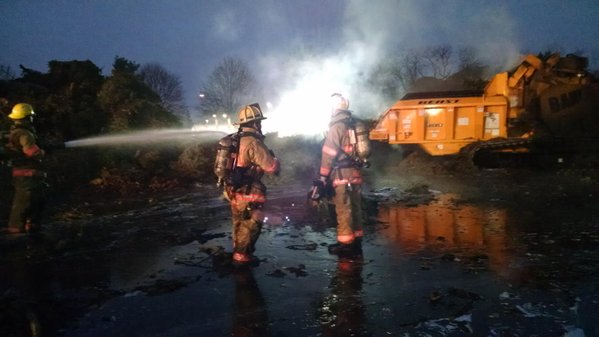 Firefighters Battle Blaze at Transfer Station (PHOTOS)
Dozens of Montgomery County firefighters battled a fire involving a piece of equipment known as the, "Beast," at the Transfer Station on Frederick Road in Derwood on Friday morning.
The horizontal grinder and mulching machine caught on fire as workers were recycling Christmas trees. The fire extended to the debris.
Montgomery County Fire and Rescue Spokesperson Pete Piringer said the machine is valued at nearly $1 million dollars, and will have to be replaced.
There were no injuries, Piringer said.
ICYMI MoCo Solid Waste Transfer – $1M horizontal grinder/mulching machine, known as 'Beast' caught fire, total loss https://t.co/PXfJvVRCEq

— Pete Piringer (@mcfrsPIO) January 8, 2016
More (Rt355) Transfer Station, workers were 'recycling/mulching' (primarily Christmas trees) when equip caught fire pic.twitter.com/lxtqu56pG7

— Pete Piringer (@mcfrsPIO) January 8, 2016
Update- Transfer Station, Horizontal Grinder (mulching equip) nicknamed "the beast" caught fire & extended to debris pic.twitter.com/Wwek5WNojp

— Pete Piringer (@mcfrsPIO) January 8, 2016
(630a) 16100blk Frederick Rd, Shady Grove Solid Waste Transfer Station, FFs (2Engines, 1Aerial Tower) on scene w/ mulching equipment on fire

— Pete Piringer (@mcfrsPIO) January 8, 2016
More..Transfer Station, >dozen FFs on scene w/ faculty staff working to remove debris & extinguish 'mulch' fire pic.twitter.com/YVlQ4Q5LmS

— Pete Piringer (@mcfrsPIO) January 8, 2016