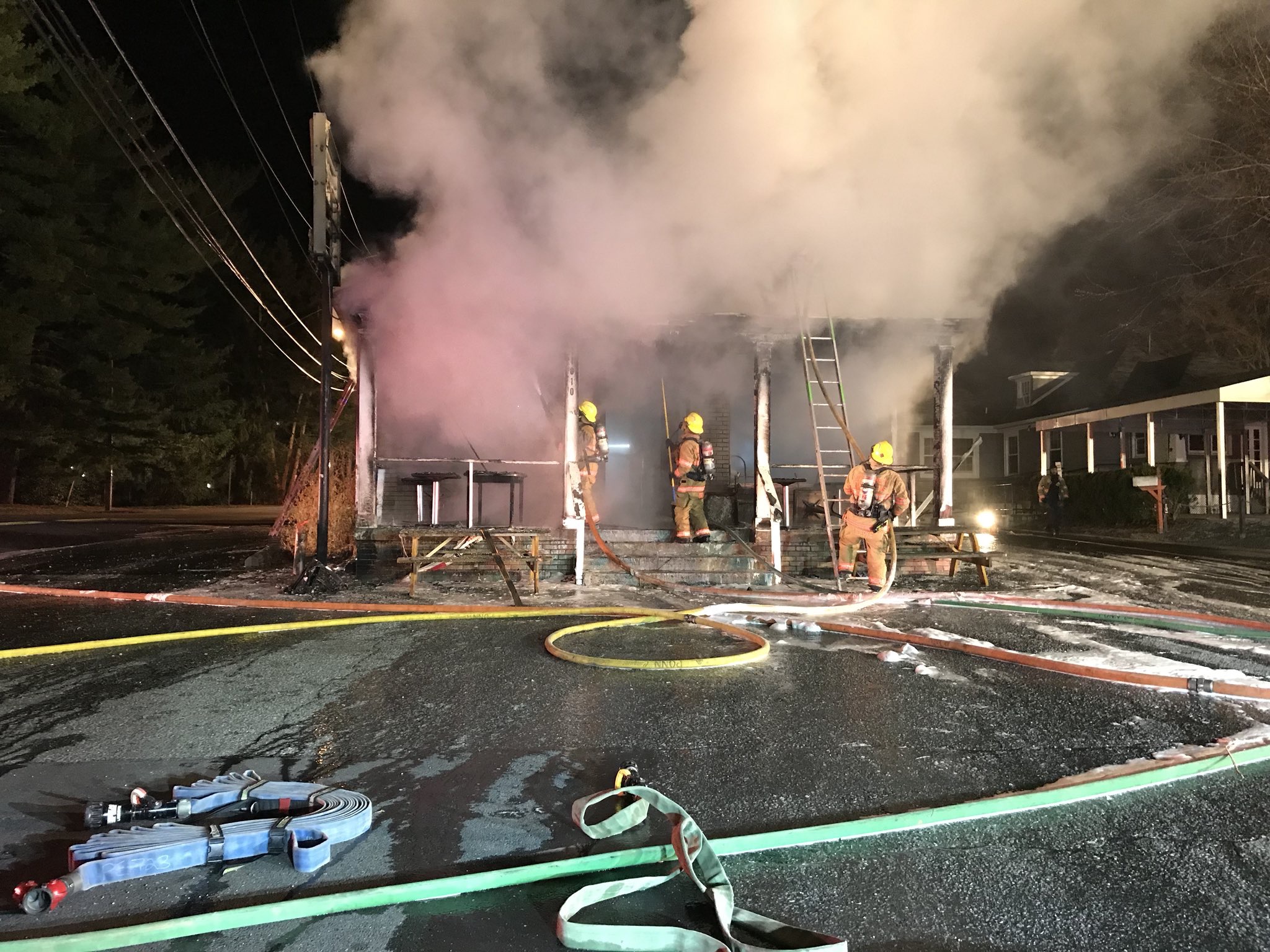 Firefighters Battle Dietle's Blaze
Hank Dietle's Tavern, a historic watering hole on Rockville Pike near the site of the former White Flint Mall, sustained a major fire early Wednesday morning.
The fire was blamed on discarded smoking materials left on the front porch, according to Montgomery County Fire and Rescue spokesman Pete Piringer.
On his Twitter feed, Piringer said the fire caused $500,000 in damage — $400,000 to the building and $100,000 for its contents.
No one was injured.
A passer-by called 9-1-1, Piringer said.
For a time, firefighters blocked traffic on Rockville Pike.
The Gazette once reported that Dietle's possessed liquor license No. 1.
Here are Piringer's tweets about the fire:
Rockville Pike – ALL LANES OPEN https://t.co/84d0Dhg13k

— Pete Piringer (@mcfrsPIO) February 14, 2018
Traffic Advisory – Rockville Pike between Edson Lane and Flanders Avenue, northbound lanes open, southbound lanes expected to open about 630a pic.twitter.com/GMxZGl1xh6

— Pete Piringer (@mcfrsPIO) February 14, 2018
Update (~245a) 11010 Rockville Pike, Hank Dietle's; Cause, accidental, discarded smoking materials; Area of Origin, front porch (exterior); Damage, Total $500K, incl $400K bldg, $100K contents; no injury; ~65 FFs OS; passerby called 911 pic.twitter.com/0chCSLR0tZ

— Pete Piringer (@mcfrsPIO) February 14, 2018
Update – 11010 Rockville Pike, Hank Dietle's restaurant, fire is out, no injury, fire appears accidental, damage estimate ~$500K pic.twitter.com/AL7zSgDWKu

— Pete Piringer (@mcfrsPIO) February 14, 2018
11010 ROCKVILLE PIKE * HANK DIETLE'S – E705, PE726, E750B, E720, PE721, AT723, AT751, RS703, M723, BC704, BC703, AT703, T706, A705 & others OS, bulk of fire knocked down pic.twitter.com/lMp4wod5GJ

— Pete Piringer (@mcfrsPIO) February 14, 2018
Hank Dietle's restaurant, 11100blk Rockville Pike, one & half story commercial building, MCFRS firefighters arrived ~3a with heavy fire conditions, significant damage, no injury reported pic.twitter.com/uMdePNqOxz

— Pete Piringer (@mcfrsPIO) February 14, 2018
Update – Rockville Pike, two-story commercial building, heavy fire conditions https://t.co/E6tJ4KglZe

— Pete Piringer (@mcfrsPIO) February 14, 2018