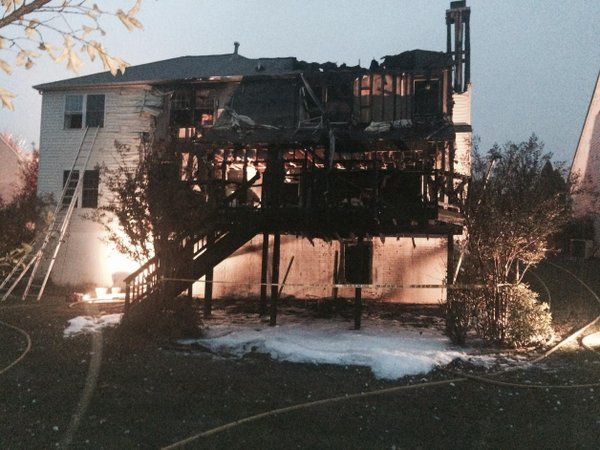 Firefighters Battle House Fire in Germantown
UPDATED A house fire in Germantown on Wednesday evening caused an estimated $400,000 in damages and displaced a family of four, according to a Montgomery County fire official.
Montgomery County Fire and Rescue Services Spokesperson Pete Piringer said the fire at 17809 Falconcrest Circle began outside, near the deck. He said that 60 firefighters were called to the scene.
At one point, Piringer said firefighters were engaged in a "firefight" as they battled the blaze on all three levels of the single-family house.
Piringer said two firefighters were evaluated for non-life-threatening injuries. There were no injuries to any residents, he said.
The cause of the blaze remains under investigation.
Falconcrest Cir, Germantwn; family 4 displaced, 1 occupant home & self-rescued; area/origin, rear of house near deck pic.twitter.com/gelWHqFd2H

— Pete Piringer (@mcfrsPIO) October 28, 2015
U/D 17809 Falconcrest Cir, damage >$400k; cause, under investigation; Area of Origin, probable outside near deck pic.twitter.com/1GyPMKmyi1

— Pete Piringer (@mcfrsPIO) October 28, 2015
Update Falcon Crest Circle, Germantown heavy fire conditions on all 3 floors of a large single-family house

— Pete Piringer (@mcfrsPIO) October 28, 2015
Update -Falconcrest Circle, firefighters engaged in a firefight, heavy fire conditions on deck with extension to the house
— Pete Piringer (@mcfrsPIO) October 28, 2015
17800 block FalconCrest Circle, Germantown, rear of house on fire, additional fire rescue have been dispatched

— Pete Piringer (@mcfrsPIO) October 28, 2015