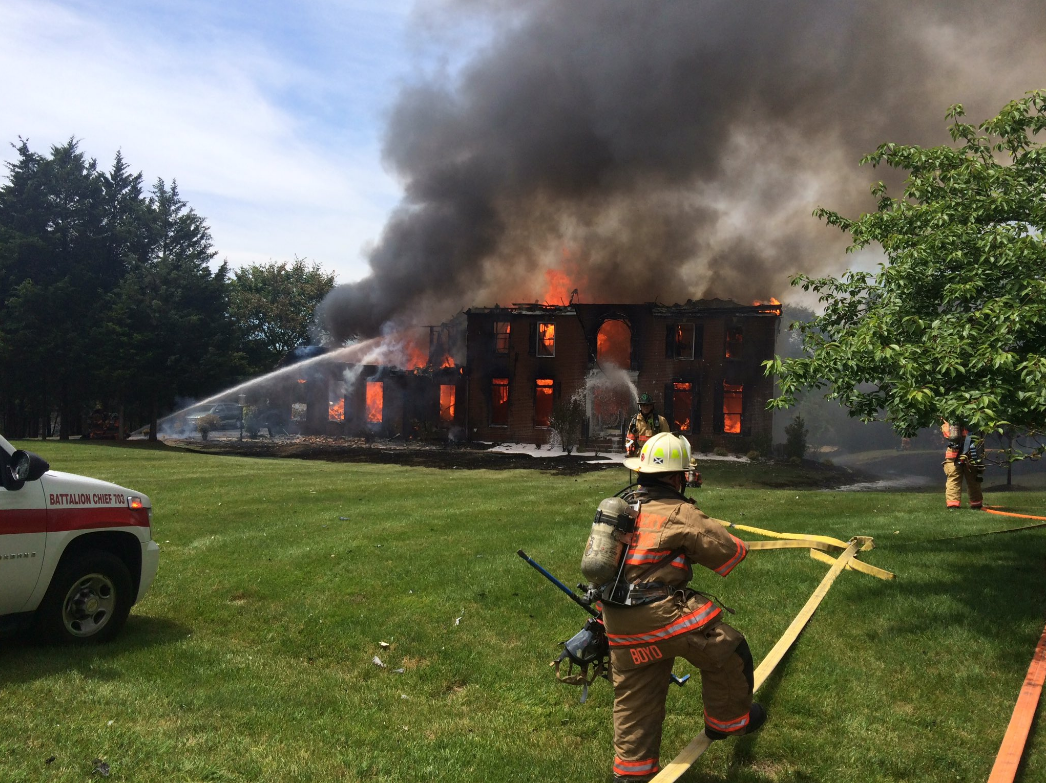 Potomac House Fire Causes an Estimated $1.1 Million in Damages (VIDEO & PHOTOS)
UPDATED 6.13.16 8:55 p.m. Montgomery County firefighters are investigating what sparked a house fire at 14001 Gorky Drive on Monday afternoon.
Fire and Rescue spokesperson Pete Piringer said over 60 firefighters battled the blaze that caused an estimated $1.1 million in damages.
Piringer said two dogs died in the fire and a family of four has been displaced. There was no one home when the fire occurred, according to Piringer.
According to Piringer, the blaze appears to be accidental and may have ignited in the garage. He said the cause of the blaze remains under investigation.
Update – 14001 Gorky Dr; Area of Origin, garage; Damage, $1.1M; Cause, appears accidental, under investigation pic.twitter.com/X1fRAxce4g

— Pete Piringer (@mcfrsPIO) June 13, 2016
More…Gorky Dr, Potomac; Family of 4 adults displaced; 2 dogs perished; residents were not home; no Civ of FF inj pic.twitter.com/5OQPaspG1d

— Pete Piringer (@mcfrsPIO) June 13, 2016
UPDATED 2:56 p.m. Dozens of Montgomery County firefighters battled a house fire in Potomac Monday afternoon.
According to Fire and Rescue Spokesperson Pete Piringer, the single family home is located at 14000 block of Gorky Drive.
Several nearby fire hydrants were used to put out the fire Piringer said.
Piringer said residents were not home at the time of the fire, but several pets were unaccounted for. No firefighter injuries were reported, he said.
Gorky Dr & Maidens Bower Dr, Potomac, large single family home, heavy fire conditions throughout pic.twitter.com/5UyhzQjfRa

— Pete Piringer (@mcfrsPIO) June 13, 2016
HOME EXPLOSION & FIRE in #PotomacMD Esworthy Park neighborhood, NO HYDRANTS available #breakingnews pic.twitter.com/rxcMTz3nLq

— Brad Freitas (@NewsChopperBrad) June 13, 2016
#BREAKING @mcfrs on scene of a large house fire 12700 blk Maidens Bower Dr #Potomac @nbcwashington pic.twitter.com/wxfZ3LLbzn

— Charlie Bragale (@charlienbc) June 13, 2016
Corrected address 14001 Gorky Dr., Potomac, 65 FFs on scene, large single family house, massive water being deployed pic.twitter.com/wak12QeptC

— Pete Piringer (@mcfrsPIO) June 13, 2016