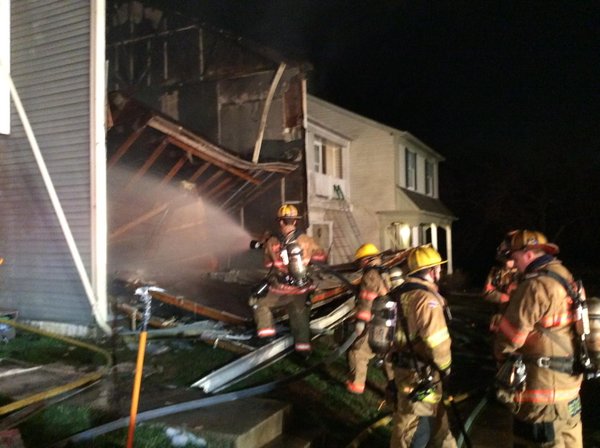 UPDATED Firefighters Injured at Townhouse Fire in Germantown (PHOTOS & VIDEO)
UPDATED March 15, 11:37 a.m. Fire and Rescue officials report that all eight firefighters injured during the blaze have been released from area hospitals and are recovering at home.
According to Fire and Rescue officials the damages from the fire total about $500,000.
You can view the video of the townhouse collapse and rescue efforts below:
ORIGINAL March 14, 6:51 a.m. Several Montgomery County firefighters were injured overnight at the scene of a townhouse fire and building collapse in Germantown.
It happened shortly after 1 a.m. at 19350 Churubusco Lane in Germantown.
Montgomery County fire and rescue spokesperson Pete Piringer said 120 firefighters responded to the three-alarm fire, which originated in the middle townhouse.
According to Fire Chief Scott Goldstein, the front wall of the second floor collapsed during the heavy fire, injuring eight firefighters.
One of the firefighters has serious injuries, according to Piringer.
Most of the other firefighters have been treated and released from a local hospital. None of the injuries are life threatening, Piringer said.
So far, no word on what sparked the fire.
Piringer said three families and their pets are displaced because of the blaze. The Red Cross is assisting these 20 people with housing.
Churubusco Lane, several families displaced, no civilian injuries, 8 FF injuries, incl some treated & released pic.twitter.com/piuwz59SqI

— Pete Piringer (@mcfrsPIO) March 14, 2016
MCFRS Fire Chief Scott Goldstein on scene of Germantown TH fire & structure collapse that injured several MoCo FFs pic.twitter.com/rrsosTnfHS

— Pete Piringer (@mcfrsPIO) March 14, 2016
(1a) 19350 Churubusco La, Germantown, 3-Alarm, >120 FFs on scene, several families, incl >18 people & pets displaced pic.twitter.com/gJRaxDpK8D

— Pete Piringer (@mcfrsPIO) March 14, 2016
Update – Churubusco La, structure collapse during fire, some extension next door, 3 families (18ppl/pets) displaced pic.twitter.com/A2Ywvi14Cb

— Pete Piringer (@mcfrsPIO) March 14, 2016
19300blk Churubusco La, fire contained to TH of origin, EMS transported 8 FFs, all NLT, some treated & released pic.twitter.com/5Q7mV6fZPL

— Pete Piringer (@mcfrsPIO) March 14, 2016
Churubusco La, middle-of-the -row TH, occupants got out, arriving FFs encountered heavy fire, collapse & Mayday pic.twitter.com/cwyjrpMQIG

— Pete Piringer (@mcfrsPIO) March 14, 2016