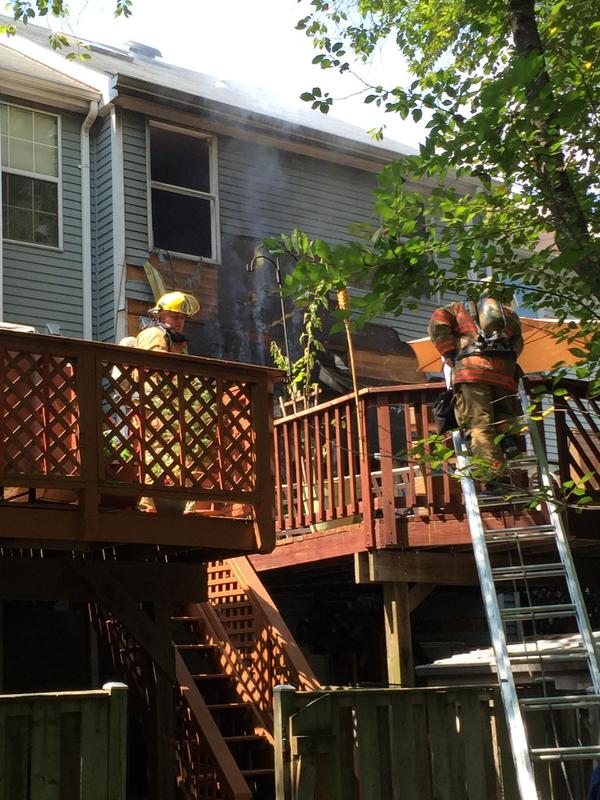 UPDATED: Townhouse Fire Displaces Family in Germantown (PHOTOS)
Montgomery County firefighters say a fire displaced a family from their townhouse at 18925 Ebbtide Circle in Germantown on Monday afternoon.
Fire and Rescue Spokesperson Pete Piringer said, at one point, firefighters were engaged in a "firefight" as they worked to extinguish the blaze.
According to Piringer, the fire started outside near a trash bin under the deck. He described the deck as "unstable" because of the fire damage.
There were no injuries, Piringer said.
The cause has been ruled accidental. Damage is estimated at $70,000, Piringer said.
Ebbtide Circle, Grmntwn; Area of Origin, outside trash bin under deck; Cause accidental; Damage, >$70K; 1 fam displcd pic.twitter.com/J21bdOZcrd

— Pete Piringer (@mcfrsPIO) August 24, 2015
U/D Ebbtide Ci – Fire appears to have started in walls, bsmt level 2-sty+ townhse w/ some vertical extension, no inj pic.twitter.com/NKlSOfbly1

— Pete Piringer (@mcfrsPIO) August 24, 2015
Update – Ebbtide Circle, townhouse fire, fire under control, FFs checking extension, all occupants made it out safely, no injuries
— Pete Piringer (@mcfrsPIO) August 24, 2015
U/D – Ebbtide Cir, bulk of fire is knocked, FFs checking extension, fire appears to have started on deck, deck unstable due to fire damage

— Pete Piringer (@mcfrsPIO) August 24, 2015
More….Ebbtide Circle, exterior deck fire w/ extension, FFs engaged w/ firefight — Pete Piringer (@mcfrsPIO) August 24, 2015
18925 Ebbtide Circle, Germantown, report of townhouse on fire

— Pete Piringer (@mcfrsPIO) August 24, 2015