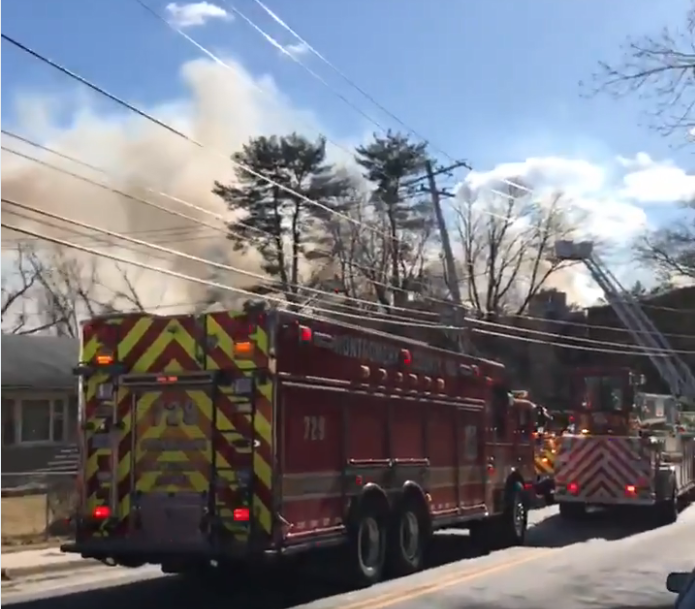 Firefighters Respond to Three-Alarm Fire in Rockville
Firefighters responded to an apartment fire on the 700 block of Monroe Street in Rockville, according to tweets from Pete Piringer, Montgomery County Fire and Rescue spokesman.
Fire crews recently called a third alarm to the blaze, which spread to other buildings, according to Piringer.
In Piringer's latest tweet, no firefighters or residents were injured.
Here's what Mitti Hicks is seeing at the scene:
Here's the scene at Fireside Park Apartments near Monroe Street in Rockville where a fire broke out. @mymcmedia pic.twitter.com/uFPaFcSmZ6

— Mitti Hicks (@MittiMegan) February 2, 2018
No reported injuries, according to @mcfrsPIO @mymcmedia pic.twitter.com/QfosMKKVl1

— Mitti Hicks (@MittiMegan) February 2, 2018
Here's what Piringer and Montgomery County Emergency Management said about the fire:
We're on scene providing emergency management support to @mcfrs for the fire on Monroe st. https://t.co/7WQDGPcCTS

— MC Emergency Mgmt (@ReadyMontgomery) February 2, 2018
~1245p 2116 Belvedere Blvd, small fire, fire out, no injuires, early video of units arriving – PE719, PE716, PE701, PE705, PE718, AT719, PT712, RS741, A742B, BC701, BC702, T716, RS742, AT718, A716, M701 on the call https://t.co/EnUvCUvsFM

— Pete Piringer (@mcfrsPIO) February 2, 2018
2nd Alarm – Monroe St, heavy fire, residential building, building being evacuated https://t.co/Smolfq8Du3

— Pete Piringer (@mcfrsPIO) February 2, 2018
Update – Monroe Street, third.alarm

— Pete Piringer (@mcfrsPIO) February 2, 2018
Update – Monroe St, 3rd Alarm, FFs arrived around 130 with heavy fire from second and third floor of one building, wind driven fire spread to other buildings pic.twitter.com/usDwNtL0nS

— Pete Piringer (@mcfrsPIO) February 2, 2018
3rd Alarm – 700blk Monroe St, Fireside Apts, ~125 FFs OS, their camp mid 20s, 'feel-like' temperature ~10°, no injuries reported pic.twitter.com/V2eDcxNPdm

— Pete Piringer (@mcfrsPIO) February 2, 2018
~130p MCFRS crews arrived at Fireside Apts, 700blk Monroe St, w/ heavy fire coming from 2nd & 3rd floors of 3-sty bldg, bldg evacuated, no injuries, wind driven fire spread in common attic, 3 bldgs affected, dozens likely displaced, >125 FFs OS, pic.twitter.com/3HUiPAGLyO

— Pete Piringer (@mcfrsPIO) February 2, 2018
Update – Monroe St, Fireside Park apartments, Rockville, three buildings & about 30 apartments affected, everyone and all three buildings will be displaced, several pets were rescued, no civilian or firefighter injuries pic.twitter.com/NU1RKxEOCq

— Pete Piringer (@mcfrsPIO) February 2, 2018