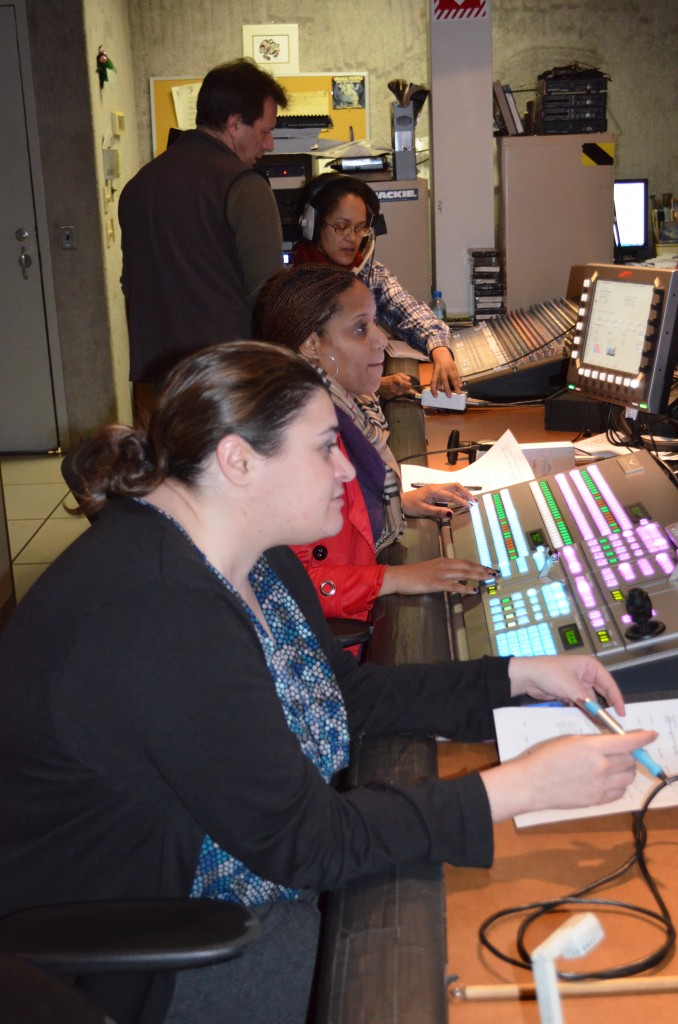 First Day of Class
Jan. 14 was an exciting new day of studio technician class.  The sun was setting and the evening came which means MCM transforms from a typical office to a very lively building with volunteers and students who come to participate in shows.
I'm always impressed when students show up early to class.  Treava was the first one to come, and following her were some other students still early or on time. Joining us for this round are two new directors, but not new students.  Lily and Marcie worked their way up and now they are learning some new skills.  Also, every class has to have a class clown and we are no exception.  We literally have a clown in our class and her name is Mandy.  Mandy is our new teaching assistant and she is also a professional clown.
The class began with a nice introduction by Larry.  He went over the agenda and other information regarding the class.  Following that, I gave the students a small tour in the control room and studio so they can have a general idea of how everything works. Next, it was time for the new students to learn hands on the equipment.  At first everything started very smoothly, but as expected when working with a lot of electronic equipment, technical difficulties slowed us down.  Students were not discouraged and kept practicing with the TA's while our team of experts were trying to fix audio and camera issues.  Luckily for us Ally, Jimmy, and Patrick were all in the building so it was only a matter of time till they took care of technical difficulties.  Shortly after it was a smooth sail and we recorded two mock shows. On both shows we had students who hosted and served as guests.  They did remarkably well and seemed like they've been on TV many times before.
Finally, we overcame some challenges and first class was over. I gave a few final remarks for the day and we were done.  Just like in the aviation world, late departure early arrival, we still made it out on time.