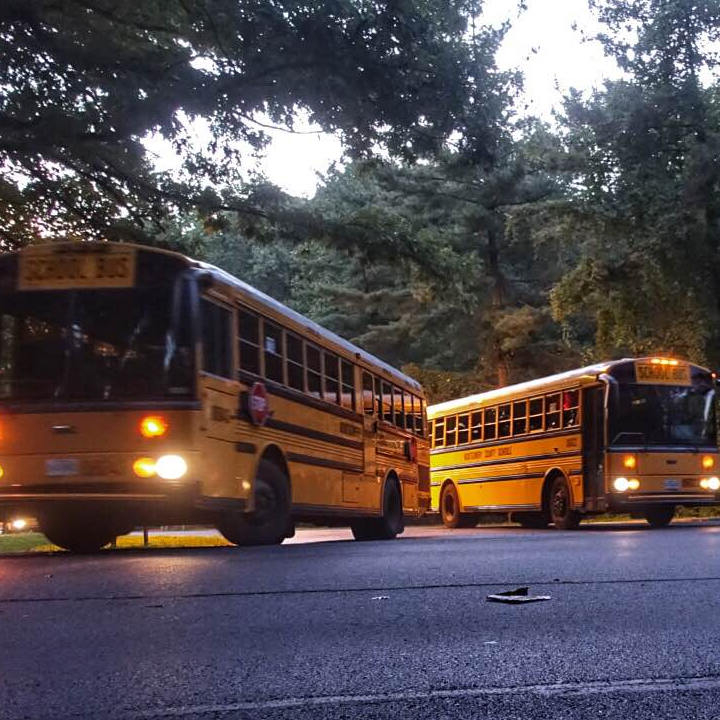 First Day of School in Montgomery County (VIDEO)
School is officially in session.
With backpacks in hand, excitement and even some tears, students here in Montgomery County Public Schools are ready to kick off the 2017-2018 school year.
More than 2,000 new students are enrolled in the MCPS school system and third grader, Cyniyah, has a message for the newbies.
"Be brave and make new friends," she said.
And some parents have advice as well.
"Hug them and get out of here," Tonya Broughton of Silver Spring said jokingly.
It's been a longer summer for students since Governor Larry Hogan signed an executive order last year requiring schools across the state to start after Labor Day.
"We kept them in summer enrollment," Broughton said. "There was a Montgomery County program that kept them busy up through about mid-August and then after that we juggled schedules and worked schedules and tried to put some flexibility around what they needed to do and we just tried to keep them busy around the house."
More than 160,000 students are enrolled for this school year making it the largest enrollment in the district's history, according to Dr. Jack Smith, superintendent for MCPS.
At Paint Branch High School, school board members, local officials and even U.S. Senator Chris Van Hollen (D-Md) joined the superintendent to welcome back students.
"It's always exciting to be here on the first day of school," Van Hollen said. "I have three children that went through the Montgomery County school system, they had a great experience and I just wanted to be here to welcome students today."
And while things didn't start off easy at Paint Branch because of an unexpected fire alarm, students say they are ready to make the school year an even better one than last year.
"Pass with straight A's, get through the whole school year [and] then just have fun with friends," Tamrat, Paint Branch High School student, said.
In addition to 2,000 new students, MCPS is also welcoming more than 950 new teachers and 26 principals and administrators.
It's the 1st day of school for @MCPS students! Here at Paint Branch HS to talk w/ Superintendent Dr.Jack Smith about the school year. pic.twitter.com/XGgsyjz7Yo

— Mitti Hicks (@MittiMegan) September 5, 2017
Senator @ChrisVanHollen just arrived to wish students good luck this school year. @mymcmedia pic.twitter.com/CQ05CbuHdh

— Mitti Hicks (@MittiMegan) September 5, 2017
Students are arriving now @mymcmedia pic.twitter.com/zfXrDLdhV4

— Mitti Hicks (@MittiMegan) September 5, 2017
Next stop Jackson Road Elementary School. So much excitement this morning @MCPS @mymcmedia pic.twitter.com/YLYOGbqtKP

— Mitti Hicks (@MittiMegan) September 5, 2017
.@MCPS Superintendent Dr. Jack Smith passing out breakfast to students @mymcmedia pic.twitter.com/8UFqtGDb2X

— Mitti Hicks (@MittiMegan) September 5, 2017
And in another room @ChrisVanHollen and Montgomery County Executive Ike Leggett @mymcmedia pic.twitter.com/Rr5hVR0NIL

— Mitti Hicks (@MittiMegan) September 5, 2017