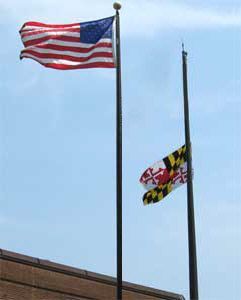 Flags Lowered to Honor Montgomery County Police Officer
Governor Larry Hogan ordered the United States and Maryland state flags to be lowered at half-staff Monday, to honor a Montgomery County police officer who died April 18.
Officer Kyle Olinger, 53, was shot during a traffic stop in 2003, according to The Washington Post. The Post says he was in his second year serving as a police officer.
Hogan tweeted that Olinger's death was the result of injuries Olinger sustained "while in the line of duty in 2003."
Police officers told The Post wounds from the gunshot left Olinger "paralyzed below his chest."
The shooter received a maximum sentence for the incident.
In a 2005 article in the Washington Post, Olinger said, "Everything I loved to do in life I can no longer do. There are things worse than death in life, and that's paralysis."
Hogan tweeted, "Lowering the flags is the least we can do to pay tribute to the life and memory of this true hero. Our prayers are with Officer Olinger's family, friends, and loved ones at this time of mourning."
Lowering the flags is the least we can do to pay tribute to the life and memory of this true hero. Our prayers are with Officer Olinger's family, friends, and loved ones at this time of mourning. May he rest in peace.

— Governor Larry Hogan (@GovLarryHogan) April 22, 2019