Flooding in Rock Creek Regional Park, Hikers Urged to Use Caution (PHOTOS)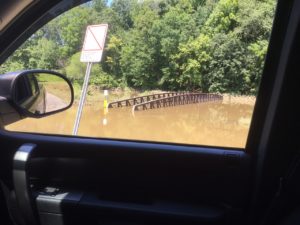 Montgomery Parks officials are warning hikers at Rock Creek Regional Park to use caution because some trails and pedestrian bridges are still flooded following last week's heavy rains.
The banks of Lake Needwood were overflowing with water on Monday afternoon and a couple of park visitors told MyMCMedia they had never seen the lake water so high.
Parks officials said the parking lot at Needwood Boats remained closed because of high water at the boat rental building. Officials said there was water in the first floor of the building and the area around the building remain flooded.
High water was also reported at nearby Lake Frank.
All of the roads are open inside Rock Creek Regional Park with the exception of the parking lot at Needwood Boats, according to Parks spokesperson Melissa Chotiner.
According to Parks officials, Lake Needwood Boats is closed indefinitely.
UPDATE: Lake Needwood Boats at Rock Creek Regional Park is closed indefinitely. Lake water still high and cleanup continues from Fri storms. pic.twitter.com/ArpFZct1F9

— Montgomery Parks (@MontgomeryParks) August 2, 2017
UPDATE: Lake Needwood Boats is closed. Crews are cleaning up after weekend flooding. Hikers, use caution around water on trails, bridges.

— Montgomery Parks (@MontgomeryParks) August 1, 2017
UPDATE: Most areas in Rock Creek Reg Park open. Lake Needwood Boats is closed. Some flooding along trails, bridges. Hikers, use caution.

— Montgomery Parks (@MontgomeryParks) July 31, 2017