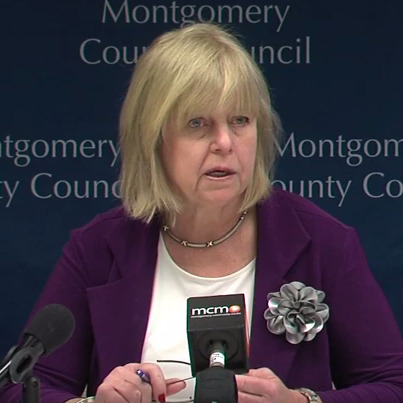 Floreen Proposes Rate Increase in Recordation Taxes, GCAAR Opposes (VIDEO)
UPDATED Montgomery County Council President Nancy Floreen introduced legislation this week to change the rate of the recordation tax paid when properties are sold or refinanced. According to a Council news release, the tax premium only applies to sales and refinancing above $500,000 and the move will stimulate funding for additional school construction and affordable housing.
Floreen talked about the plan at the her weekly briefing on Monday. See video, below:
The Greater Capital Area Association of Realtors (GCAAR) strongly opposes the legislation.
"It is unbelievable that the Council would consider ramming through a $185 million tax increase with less than a month to go in the budget process," said GCAAR President Peg Mancuso in a news release following the Council President's announcement on Monday. "Worse still, Councilmember Floreen thinks it is okay to target one vitally important group, Montgomery County homebuyers, to pay for all her additional legislative needs and wants."
According to GCAAR, Montgomery County homebuyers recordation and transfer taxes are already among the highest in the country.
"If Councilmembers want more revenue, it is their responsibility to first consider cutting back on excess spending and finding equitable, stable, broad based funding solutions," said Mancuso.
Floreen said, "I believe this proposal is the most progressive approach to meeting needs that our residents have clearly identified as their top priorities."
At the County Council meeting on Tuesday, a GCAAR representative who explained why his organization is against the expedited plan to increase the recordation tax.
Find out more in this MyMCMedia Extra video, below:
The Recordation Tax Premium is earmarked for rental assistance and county government's capital improvements program.
Related Posts: