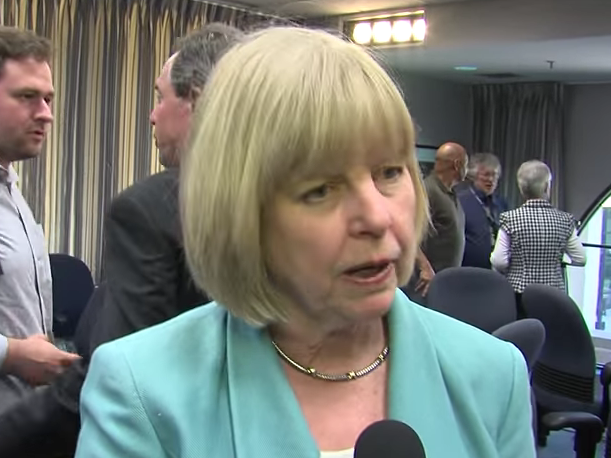 Floreen Votes Against County Budget Plan (VIDEO)
The budget reflects a 1.7 percent increase over the approved budget for FY 2015. The Council is scheduled to formally adopt the FY16 operating budget and amendments to the Fiscal Years 2015-20 six-year Capital Improvements Program on Thursday, May 21. The budget will go into effect on July 1.
Council Vice President Nancy Floreen cast the only dissenting vote.
Floreen told MyMCMedia she believed that there was room in the budget to provide tax relief for area businesses and residents in the form of an energy tax reduction. The effort to reduce the energy tax rate failed to win a majority vote by the council. Floreen had proposed a 10 percent cut that would have reduced revenue from the county via the tax by about $11 million.
"This budget exceeds last year's budget by about $90 million and I think it could have included tax relief for the average person so we could continue on the path to reduce the energy tax as we promised," Floreen said. "It all does add up and it also sends a message."
The budget maintains property tax revenue at the Charter limit (last year's amount plus an inflation-tied increase). It includes a $692 property tax credit for owner-occupants of principal residences. The weighted property tax rate will decrease to 98.7 cents per $100 of assessed value (from 99.6 cents).
The Council approved a total budget of $2.3 billion to fund the educational budget request of Montgomery County Public Schools. The total tax-supported budget for MCPS is $2.2 billion. This funding level represents an increase of $31.9 million (1.4 percent) from FY15.  The Council's approved funding for MCPS provides a total of $1.51 billion in county funds, which includes an increase of $24.2 million to meet the State's Maintenance of Effort requirement and a total of $44.4 million required for State retirement contributions. In addition to these County funds, the approved budget provides an additional $27.2 million of resources to fund MCPS retiree health benefit claims. Together, this meets 97.6 percent of the Board of Education's funding request, according to a release from the county.
The Council approved a total budget of $309.9 million for Montgomery College, including a tax-supported budget of $252.2 million and a total of $127.6 million in County funds. This is an increase of $12.8 million (4.3 percent) from the FY15 approved budget. The funding exceeds the State Maintenance of Effort requirement by $10.9 million, according to a release from the county.
You can find more details about the budget here and the projects and programming that made it on to the county's approved reconciliation list here.