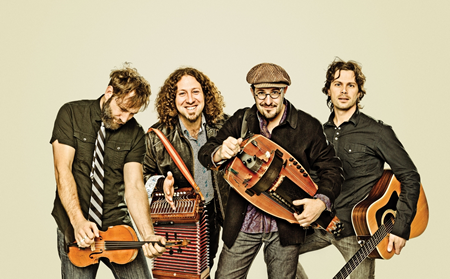 Folk Band Le Vent du Nord Appearing at BlackRock (VIDEO)
The critically-acclaimed progressive folk group Le Vent du Nord will perform at BlackRock Center for the Arts on Saturday, February 28 at 8 p.m. Tickets are $15 – $28 and may be purchased online at the BlackRock website or by calling 240.912.1058.
Considered a driving force in Quebec's progressive folk movement, Le Vent du Nord captures the energy and mirth of a Saturday night kitchen party—infusing old Québec with a breath of fresh, cosmopolitan air. Since its founding in 2002, Le Vent du Nord have become a compelling Francophone ambassador, winning critical acclaim and audience adoration across Europe and North America. The quartet has racked up several prestigious awards, including two Junos (Canada's Grammys) for Best Roots Album, a Canadian Folk Music Award for Group of the Year and Album of the Year, and the prestigious International Prize Charle Cros for world music.
The band delivers catchy songs and tunes, some taken from the Québec traditional folk repertoire while others are original compositions. Made up of four singers and multi-instrumentalists, Le Vent du Nord has a rich and varied instrumentation, well-polished musical arrangements, and wonderful vocals. They return to BlackRock after a sell-out debut in 2012.
Le Vent Du Nord performing Le Coeur de ma Mère