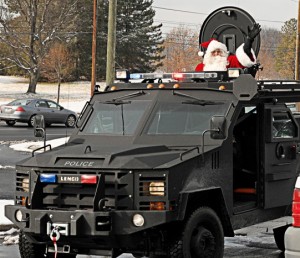 Follow Annual Santa Ride on Twitter (Photos)
The Montgomery County Police's annual "Santa Ride" will take place Wednesday, Dec. 18 from 10 a.m. to 5:30 p.m. Santa will be traveling in an armored police tactical vehicle – a Bearcat. Motor Squad officers will escort Santa bringing gift bags and donations raised by the police department to a party for the children whose families are residents at the Children's Inn at NIH.
Montgomery County Police motor officers are collecting donations from all six police districts, area businesses, and residents to purchase gift cards from area stores to assist families residing at the Children's Inn. These gift cards will assist families in purchasing food and supplies during their stay at the Inn. The funds also provide gifts for the children staying at the Inn while receiving treatment at NIH. If you wish to contribute, visit www.childrensinn.org, click the "Donate Now" button and select "Santa Police Ride" or drop off donations at any Montgomery County Police District station.
Montgomery County Police District Stations
First – Rockville, 100 Edison Park Drive, Gaithersburg
Second – Bethesda, 7359 Wisconsin Avenue, Bethesda
Third – Silver Spring, 801 Sligo Avenue, Silver Spring
Fourth – Wheaton, 2300 Randolph Road, Wheaton
Fifth – Germantown, 20000 Aircraft Drive, Germantown
Sixth – Montgomery Village, 45 West Watkins Mill Road, Gaithersburg
The event will start at the Germantown station at 10 a.m. located at 20000 Aircraft Drive. Stops will be made along the way to collect donations for The Children's Inn.
The first stop will be at Wegmans Food Market, 20600 Seneca Meadows Parkway, Germantown.
The riders will then visit Sheehy Ford located at 901 Frederick Road in Gaithersburg to thank the dealership for their generous donations to the annual Santa Ride.
The ride will continue on to Rockville Town Center.
And then Olney Town Center.
The riders are scheduled to arrive at the Public Safety Headquarters in Gaithersburg at approximately 2 p.m. where Chief Manger is expected to greet the Santa Ride.
The riders will make a brief lunch stop at Vince & Dominics located at 10474 Auto Park Avenue in Bethesda. Vince & Dominics will be hosting a luncheon for Santa and the riders as they have generously done for several years.
Following lunch, the Santa ride will continue on to Silver Spring Town Center and to Bethesda Triangle.
The Santa Ride will then depart for its final destination – the Children's Inn at NIH. Arrival at the Children's Inn is expected at approximately 5:30 p.m.
From 5:30 p.m. to 7 p.m., police officers and Santa will spend time with and distribute gift bags to the children at the Inn.
If you are unable to be at any of the locations, join in with a virtual ride-along with Santa on Twitter (@mcpnews – #MPCSantaRide). Police officers will tweet in real-time as the Santa Ride progresses through the county.
Santa emerges from his armored vehicle as the MoCo police make their rounds #mcpsantaride https://t.co/cOHmHwrPTe

— Valerie Bonk (@ValerieBonk) December 18, 2013

Related posts: