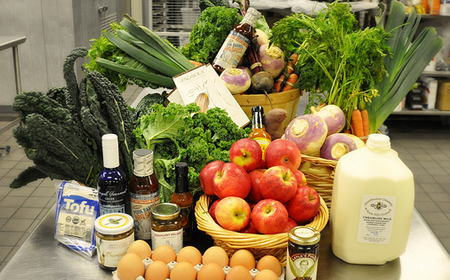 Food Insecurity in Montgomery County is Declining, According to Data
Thousands of Montgomery County residents experience food insecurity each day, but data from a recent CountyStat study revealed the number of residents experiencing food insecurity is declining.
Food insecurity is defined as being without a reliable access to a sufficient quantity of affordable and nutritious food.
CountyStat was launched in 2007 within the Office of the County Executive.  The team is made up of internal consultants and statisticians who use data to monitor, assess, and improve the effectiveness and performance of Montgomery County services. Staff from CountyStat held a public meeting Tuesday to provide a one year update on the county's vision of having access to safe, sufficient and nutritious food for all residents.
"We learned that food insecurity has dropped from 77,000 in 2016 to approximately 63,000," said Heather Bruskin, executive director for the Montgomery County Food Council.
The decline, according to Bruskin, can be attributed to general improvements in the economy and county funded programs.
"Improvements in the economy is one reason for the decline in food insecurity as well as funding for county programs," Bruskin said. "Funding has increased for services to seniors and students whom are the most vulnerable. With the weekend bag program, for example, students can take food home on the weekends so they're not wondering where their next meal is coming from."
But Bruskin said there is still a lot of work that needs to be done which is evident by the interactive map CountyStat developed to illustrate which areas in the county are vulnerable to food insecurity.
"There are multiple areas within the county," Thomas Tippett, performance management analyst for CountyStat, said. "One area highlighted is East County where there are not many resources."
To address food insecurity within the community, CountyStat took a "cross-department" approach where collaboration from multiple organizations and departments was required to gather information and analyze what can be done.
Bruskin stated the interactive map developed by CountyStat will help those engaged in fighting hunger better serve the communities in need.
To view the map, click here.