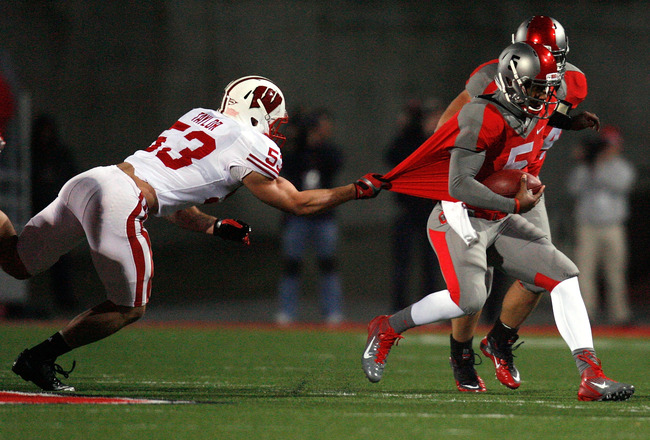 Football Friday
(4) Ohio State vs. (23) Wisconsin- These BIG 10 rivals will be fun to watch as they clash Saturday night at 8:00 . Braxton Miller will be back on the field for the Buckeyes as Joel Stave leads the Wisconsin Badgers into one of the loudest places in college football. Ohio States defense will really be put to the test as they go up against Wisconsin's running game. Wisconsin is averaging 349.8 rushing yards per game and 41 points on the scoreboard. Wisconsin runningback Melvin Gordon is averaging 11 yards a carry and has got in to the end zone 7 times. Ohio State is 6th best in the country in rushing yards and is averaging 52 points per game. Both defenses are physical and will beat up any offense. Wisconsin allows 10 points a game and Ohio State allows 15. Despite the high power offense I think this will be a low scoring game because of the talent of the defensive side of the ball.
Ohio State Bottom Line: Can they force Wisconsin to pass.
Wisconsin Bottom Line: Can they contain Braxton Miller.
Prediction: Wisconsin by 3
(9) Georgia vs. (6) LSU – This game is very important for both teams but especially Georgia. The Bulldogs already have a loss and a conference loss to LSU would hurt their National Title chances. LSU feels very confident after their win against rival Auburn. Even though this game is in Georgia I think LSU won't be at a big disadvantage. Quarterback Zach Mettenberger has has never looked better than the way he is playing this year. With Mettenberger I think LSU is virtually unstoppable. Georgia's weapons have showed up enough before this game to make me believe that they will give LSU a hard time. Aaron Murray has been untouchable in the first three games. With  Aaron Murray on the field I think LSU cornerbacks with have their hands full.
Georgia Bottom Line: Can the defense hold LSU.
LSU Bottom Line: Will their defense stand up to Aaron Murray
Prediction: Georgia by 10
Other Games to Watch
(14) Oklahoma at (22) Notre Dame- Oklahoma will win because of their outstanding defensive play. Notre Dame gives up to many points and doesn't score enough.
(1) Alabama vs. (21) Ole Miss- Alabama will win because of their experience in prime time games. Ole Miss doesn't have the same coaching or player experience that Alabama does.
Arkansas vs. (10) Texas A&M- Texas A&M will win because Johnny Manziel is the hardest quarterback to prepare for in the NCAA. Texas A&M will be led into Fayetteville by Johnny Manziel. Though Texas A&M lost to Alabama Johnny Manziel has been playing great. I expect this game to be close but I don't predict an upset.