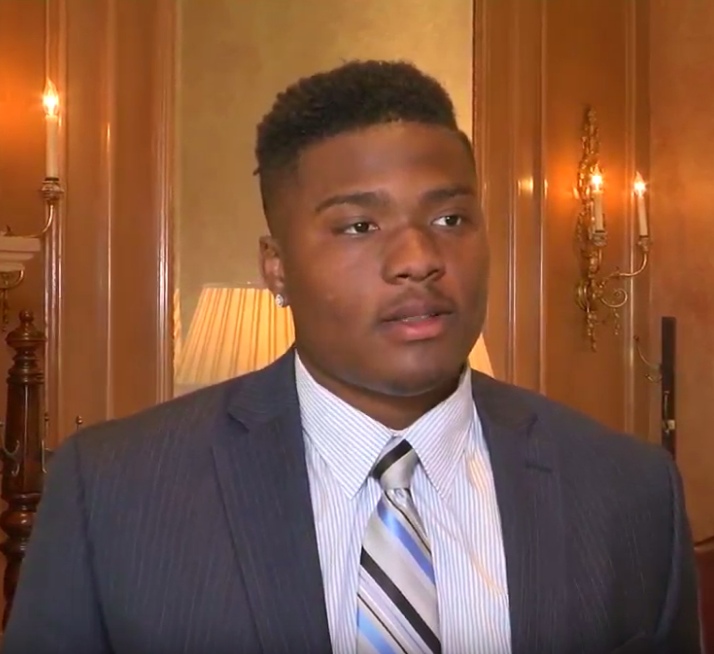 Former Bullis Standout Haskins Drops to 15th Pick, Drafted By Redskins
Rumors and reports swirled for days that it could happen. Then around 10 o'clock Thursday night, it did happen. "It" was Dwayne Haskins, Jr., former star quarterback at Bullis in Potomac, being selected in the first round by the Washington Redskins. Weeks ago, Haskins was projected by many to be picked by the New York Giants with the 6th overall pick in the draft but in recent days, Haskins' stock seemed to drop and that was borne out on draft night when he slipped to the 15th pick which made some in the Redskins organization very happy.
Haskins, though, clearly was not happy but is using the slight to his advantage telling ESPN's Jen Lada, "To be honest, I'm more motivated than ever before. I've got a chip on my shoulder…the league done messed up."
"The league done messed up."

Dwayne Haskins letting Washington Redskins fans know he's ready to get work 💪 pic.twitter.com/ym6tjIFBvr

— ESPN (@espn) April 26, 2019
The Redskins needed a quarterback after last year's catastrophic injury to starter Alex Smith. His back-up, Colt McCoy, also got hurt and is recovering from surgery. And Case Keenum whom the Skins acquired in the off-season was seen by some as a place holder until the team got someone else. That happened Thursday night. The starting job could be Haskins' to lose or it could come down to a three-way battle with Haskins, Keenum and McCoy competing to be the lead signal caller.
Haskins threw for 5,308 yards and 54 touchdowns in his career at Bullis leading the Bulldogs to consecutive IAC titles as a sophomore and junior. The highly recruited quarterback originally committed to play at the University of Maryland but changed his commitment to Ohio State when Terps' head recruiter Mike Locksley (now Maryland's head coach), was not retained. Haskins is originally from New Jersey but his family moved to Montgomery County when he was in the ninth grade.