African Students Face Cultural Challenges
"Do you think drugs are a way to fit in?"
A loud "yes" was heard from the audience as African middle and high school students nodded in agreement to panelist Omonigho Ufomata's question.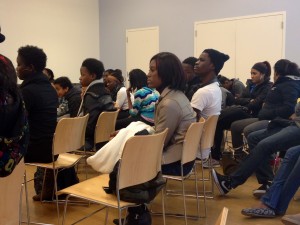 The students from local public schools were at the Silver Spring Civic Center for a conference on lifestyle choices held by the African Immigrant and Refugee Foundation.
The panel that grabbed the young audience's attention was titled "Sex, Drugs and Rock & Roll."
The hope of the discussion was to bring African students together to talk about the pressures they face in school and how counselors and parents can help them navigate cultural differences to make the right decisions without succumbing to peer pressure.
"The reason we decided to discuss that theme is because we know that kids in general are engaging in sex, drugs and we know that popular culture has great influence on the way that they engage with their peers," said Asmara Sium, Executive Director of the African Immigrant and Refugee Foundation.
"We understand that they are African and much of their behavior is informed by their cultural identity and particularly that of their parental heritage, and so we try to bring that all together in a way that it was engaging, fun and informative."
Many of the students and presenters said that the topic of drugs and sex are often taboo to African parents.
"If I start talking to my parents about sex I might get killed," said Atemba Clinton, a junior at Wheaton High School. "African parents, they are not easy to talk with about that."
"We don't talk about sex at home because our parents would think that we were actually doing it," said Ornella Mbakob, a sophomore at Einstein High School.  "We need to start to talk to them about it because they can give us advice I don't talk to them about this stuff ever because I'm too scared."
Presenters on the panel said that a dialogue about negative influences that local African students are seeing in school needs to happen between the students and their parents in order to help them make the right choices for their health.
"With African youth there's really not sex education in the home and so a lot of youth are getting their information from friends or the media or pop culture and it can be dangerous because a lot of the messages are not healthy or positive so a lot of young people might feel conflicted," said presenter Adedotun Ogunbajo. "They need to talk to the right people. Talking about sex with your parents at a young age for these students is really important."