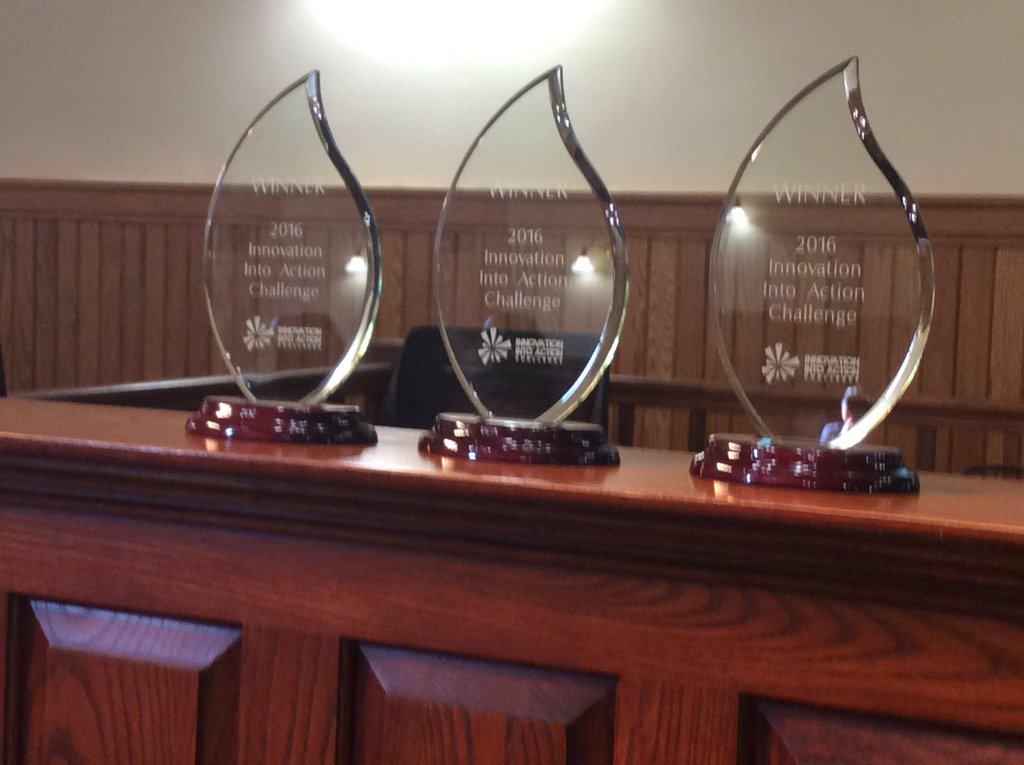 Four Companies Win Innovation into Action Challenge (VIDEO & PHOTOS)
Four companies, including one based in Gaithersburg, are the winners of DAI's "Innovation into Action Challenge." The winners were announced at an award ceremony held at the Redbrick Courthouse in Rockville on May 26th.
ClickMedix, Labortoria, ThinkMD, and Solar Sisters will each receive $20,000 in seed funding, an opportunity to field-test their products/services, and a tailored package of coaching and technical assistance.
DAI, an international development company, along with USAID's Global Development Lab, the Innovation Program of Montgomery County, and Global Accelerator Network (GAN) partnered to launch the "Innovation into Action Challenge," which is designed to support innovations with the potential to make a difference in the lives of people in emerging and transitioning nations.
296 companies from around the world applied for the challenge and nine finalists were brought to Rockville to pitch their products and services to a panel of judges.
Two Montgomery County based companies, ClickMedix, based in Gaithersburg, and Rockville based Speak Agent were among the nine finalists.
ClickMedix uses mobile phones to allow healthworkers to screen for health concerns through customizable triage algorithms and tele-consult with physicians to determine treatment plans and empower frontline healthworkers.
Speak Agent is an interactive language teaching app that allows users from low-literacy backgrounds to express language using symbolic representation.
In this MyMCMedia Extra video, Montgomery County Chief Innovation Officer Daniel Hoffman talks about the challenge and award ceremony.
Other finalists included; East Banc Technologies', PeerAspect, Trek Medics, Solar Sister, Mavuno Harvest, and THINKmd,
For more information on the "Innovation into Action Challenge," visit DAI's website.
Judges decided on four winners. @ClickMedix Laboratoria Solar Sister and ThinkMD. @mymcmedia pic.twitter.com/15DeLWQqFU

— Maureen Chowdhury (@MediaMaureen) May 26, 2016
Awards lined up. Winners to be announced soon. @mymcmedia #DAInnovate pic.twitter.com/lVhBI7JUgw

— Maureen Chowdhury (@MediaMaureen) May 26, 2016
The judges for the challenge. #DAInnovate @mymcmedia pic.twitter.com/xBOCS5oATs

— Maureen Chowdhury (@MediaMaureen) May 26, 2016
.@MC_Council_Katz says the Council presented a proclamation to finalists today. @mymcmedia #DAInnovate pic.twitter.com/r9hoIXE8XM

— Maureen Chowdhury (@MediaMaureen) May 26, 2016
Citations presented to finalists by Congressman Van Hollen's office. @mymcmedia #DAInnovate pic.twitter.com/sh5QCf2q0D

— Maureen Chowdhury (@MediaMaureen) May 26, 2016
At the Innovation into Action Challenge award ceremony. 9 finalist companies are competing for funding. #DAInnovate pic.twitter.com/kwsjjPjSws

— Maureen Chowdhury (@MediaMaureen) May 26, 2016