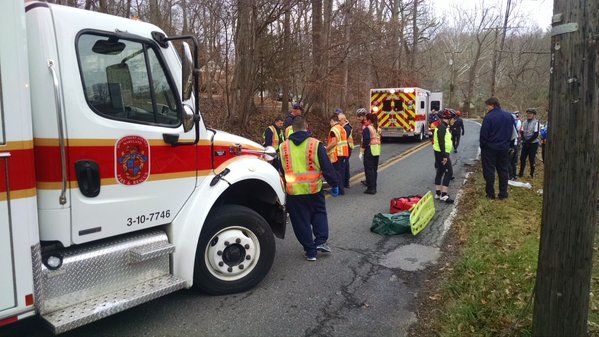 Four Cyclists Injured on Glen Road
Four cyclists were transported to the hospital on Saturday morning after a collision in the 10300 block of Glen Road, according to a Montgomery County fire official.
Fire and Rescue Spokesperson Pete Piringer said the collision occurred when one cyclist went down causing a chain reaction with the others.
Piringer described the injuries on his Twitter account as bumps, bruises and abrasions.
According to Piringer, the injuries are non-life-threatening.
ICYMI (825a) Cyclist(s) Collided – 10300blk Glen Rd, 1 cyclist down causing chain reaction involving others, EMS transported 4 inj, all NLT

— Pete Piringer (@mcfrsPIO) November 28, 2015
U/D – Glen Rd, bicycle crash, EMS transported 4 adult males; 1 Pri2, serous, NLT; 3 Pri3, bumps, bruises, abrasions pic.twitter.com/fq7DFuGGGb — Pete Piringer (@mcfrsPIO) November 28, 2015
Cyclist(s) Struck – 10300blk Glen Rd, bicyclist went down causing chain reaction, multiple cyclists collided, EMS evaluating at least 4 inj

— Pete Piringer (@mcfrsPIO) November 28, 2015