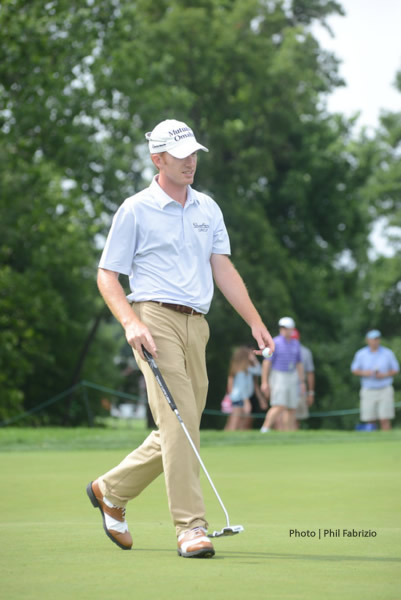 Haas Wins AT&T National Trophy
UPDATED
Bill Haas saved his best for last, playing error-free golf down the stretch on Sunday to win the AT&T National at Congressional Country Club.
Haas closed with a 5-under-par 66, touring the challenging final 12 holes in 5-under without a bogey. He recorded a three-stroke victory over Roberto Castro.
The title is the fifth career victory for the 31-year-old Haas, a former Wake Forest University star, the last coming at the 2012 Northern Trust Open. The son of Champions Tour standout Jay Haas, Bill was the only player in the field this week to post four straight under-par rounds, and earned $1.17 million.
Haas began the final round in a four-way tie for first place with Castro, James Driscoll and Andres Romero at 7-under. Ten players lurked within four shots of the lead.
However, Haas took control late on the front nine by carding three consecutive birdies. He rolled in a 10-foot birdie putt at the par-4 eighth hole, added a 12-foot birdie putt at the par-5 ninth, then birdied the par-3 10th to secure a two-stroke cushion over Castro.
Haas essentially clinched the win at the par-5 16th hole, where he knocked a wedge from 84 yards to nine feet and made the birdie putt to increase his advantage to three.
Haas finished with a 72-hole score of 12-under-par 272 and was greeted by tournament host Tiger Woods after completing his round. Woods, last year's winner, was unable to compete this year due to a strained left elbow.
"He handled his business beautifully today," Woods said. "He handled his business through the toughest stretch of holes and pulled away."
Haas, who led the field with 25 birdies, has now posted seven top-10 showings on the PGA TOUR this year, tied for first in that category. He also joins Phil Mickelson, Dustin Johnson and Justin Rose as the only players to win at least once each of the past four years.
Castro closed with a 2-under-par 69 to capture sole possession of second place at 9-under. D.H. Lee and James Kokrak shared third at 8-under. Lee fired the best round of the week with a 7-under-par 64 and Kokrak shot a 69.
Proceeds from the tournament benefit the college-access programs of the Tiger Woods Foundation.
——————————————————————————————————————————–
ORIGINAL POST
The $1.17 million first-place prize will be up for grabs today (June 30) when the AT&T National concludes at Congressional Country Club in Bethesda.
Second-round leader Roberto Castro maintained a share of the lead thanks to an 80-foot chip-in at the par-4 18th hole on Saturday. But he's joined at the top by Bill Haas, James Driscoll and Andres Romero. All four players have 54-hole scores of 7-under-par 206.
Another 10 players lurk within four strokes.
Haas and Driscoll made the biggest moves, each carding a 3-under-par 68 in Saturday's third round. Haas carded nine birdies on his adventurous round. Driscoll made five and is the only player in the field who has recorded three-straight scores in the 60s.
"Certainly could have been a 6, 7, 8 under day," Haas said. "But it also could have been a 4, 5, 6 over day if I hadn't putted well."
Romero posted a 1-under 70 and Castro finished with an even-par 71. The course played tough, as only 33 players remain under par for the tournament.
Driscoll, Haas and Castro will tee off in the final threesome on Sunday at 10:30 a.m. ET. They will be preceded by Romero, Jason Kokrak and Brandt Snedeker at 10:20 a.m.
Proceeds from the tournament benefit the college-access programs of the Tiger Woods Foundation.