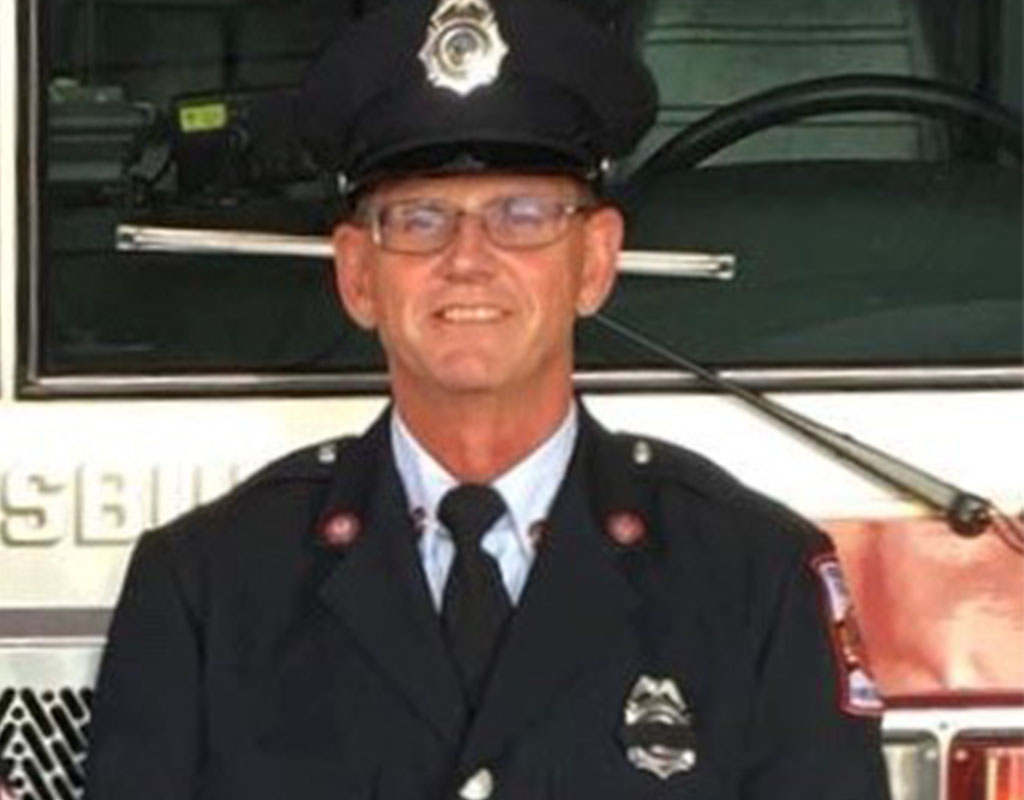 Frederick County Firefighter Found Dead in Dickerson
A Frederick County firefighter was found dead in Dickerson on Tuesday morning, according to Pete Piringer, spokesperson for Montgomery County Fire and Rescue Services.
Frederick County Fire and Rescue Services confirmed the death of Drue Jones, 66, on Twitter. Jones was a 14-year veteran of FCFRS who worked at Emmitsburg Station.
Piringer said that at around 7 a.m. on Tuesday morning, FCFRS officials asked MCFRS to check on the welfare of Drue Jones, who didn't report to work at 6 a.m. This was "unusual" for Jones, FCFRS officials said.
When MCFRS arrived on West Harris Road in Dickerson, near Sugarloaf Mountain — where Jones was last seen — they discovered that a vehicle was present and a tractor was missing in the area, said Piringer.
After 30 minutes of searching for Jones, MCFRS found the tractor, overturned with a man inside, Piringer said. It was "at the bottom of a very steep ravine," which is used for dumping environmental debris. Because this was a "difficult and remote area," Piringer said a technical rescue team was called to the scene to assist.
Update – W Harris Rd, Dickerson, initial call (~715a) for check on welfare (person did not show up at work), after search, shortly after 8a a tractor was found in remote 'dump' area, overturned down a steep ravine, at which time @mcfrs technical rescue resources were deployed pic.twitter.com/wlhZQ2JENW

— Pete Piringer (@mcfrsPIO) June 4, 2019
At around 8 a.m., Piringer said Jones was identified as the man entrapped inside the tractor. However, rescue crews determined at 9:14 a.m. that Jones had died from traumatic injuries.
According to Piringer, "presumably" Jones had been driving the tractor before it overturned down the ravine, but police are still investigating this.
Piringer said that Jones's family has been notified and eventually arrived at the scene. This incident is still undergoing investigation by Montgomery and Frederick County police.
Update – W Harris Rd, Dickerson, @mcfrs technical Rescue crews engaged (rigging & roping) w/ overturned tractor, vehicle overturned & down a deep ravine. Tractor operator trapped & pinned w traumatic injury pic.twitter.com/9E0sr5REjq

— Pete Piringer (@mcfrsPIO) June 4, 2019
In a statement from FCFRS, officials said that Jones's son, Stephen Jones, is also a Frederick County career firefighter.
Sarah Campbell, a spokesperson for FCFRS, told MyMCMedia that Jones's body is being transported to Baltimore, as protocol. Campbell said FCFRS is working with Jones's family as they make funeral arrangements.
FCDFRS is deeply saddened to confirm the unexpected death of FF III Drue Jones as a result of a tractor accident and technical rescue incident in Montgomery County. More information will be released soon.

— FrederickCounty Fire (@FCDFRS) June 4, 2019