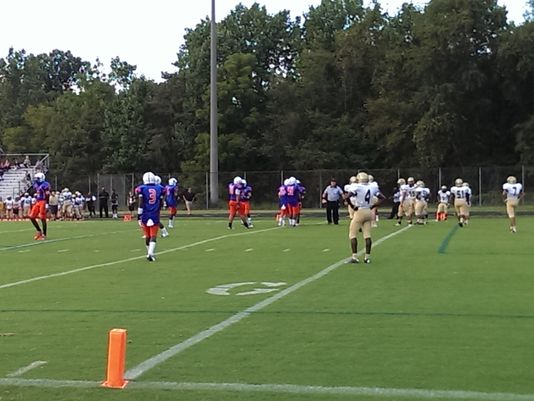 Frederick Spoils Watkins Mill Home Opener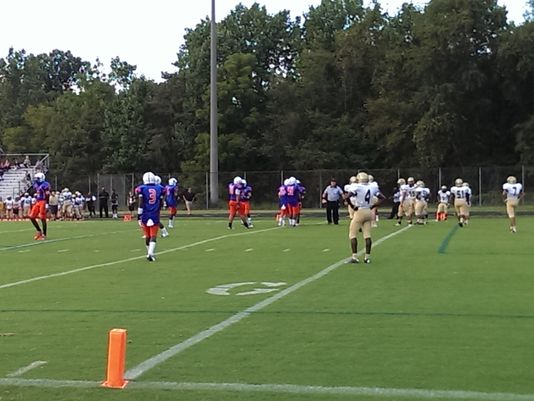 On Friday, September 5 Watkins Mill opened the 2014 Varsity football season at home against Frederick. Going into the game the Watkins Mill Wolverines were hyped to start the football season with the new Bermuda grass field.
The Wolverines high expectations for this year start at the quarterback position. Watkins Mill's starting quarterback for the 2014 season is freshman Markel Grant. Grant is one of the most talented quarterbacks I have ever watched at the high school level. He has a very strong arm and can escape pressure to pick up yards with his feet. On Friday, Grant handled the pressure very well considering the freshman plays on the varsity team. With hundreds of parents, students and staff members in attendance, Grant threw for 125 yards and a touchdown. Grant played a good debut game but the Wolverines couldn't find a way to put points on the board. Watkins Mill caused Frederick Cadets quarterback Terrence Warfield to throw 3 interceptions but only scored 7 points in the whole game. Frederick's formula to success appeared to be running back Stalanic Anu. Anu rushed for 104 yards and scored all of Frederick's touchdowns.
Frederick played a soft first quarter but then started to punch Watkins Mill in the mouth. This resulted in 19 unanswered points to end the game. Even though Watkins Mill lost this game they have a lot of positive things they can build off of. First of, the more Markel Grant plays the better he will get. When the freshman quarterback  performs at the highest level the Wolverines will be hard to beat. Second, Isiah Offutt can bust games open with his speed and elusiveness. This will open up passing lanes for Grant and make Watkins Mill even harder to beat.
Another upside is the guys lined up at receiver. Devonte Bruff and Brian McNeary came to play at the wide receiver position. Bruff and McNeary are fast, elusive and strong which is a nightmare for any corner who is undersized. This also makes a match up nightmare for anyone who doesn't have "track speed". If 4 guys can step up every week at wide receiver then life will be much easier for the young freshman quarterback. On the defensive side of the ball Cain Mullens, Geeonni Brooks-Pickett and Clarence McNeary III were having a field day. The three players combined for 29 tackles and provided a intimidating defensive presence. My thoughts on this Watkins Mill football team is that the offensive needs to find their rhythm. The defense and special teams caused 4 turnovers and the offense only scored 7 points. This team has to find their identity before the big games come around.