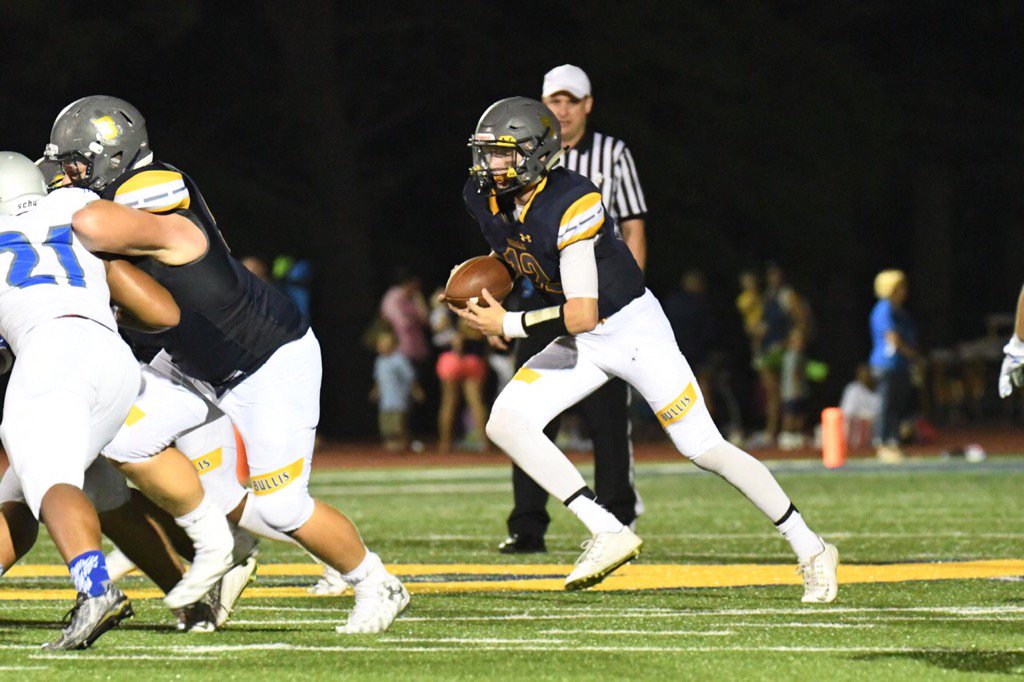 Friday Night Lights Football in the DMV (PHOTOS)
This past weekend two private schools from Montgomery County had notable football action involving teams from the District and Arlington. On Friday night Bullis hosted Bishop O'Connell in a non-affiliated contest in Potomac. Then on Saturday afternoon Good Counsel traveled to Northwest Washington to take on St. John's in the Washington Catholic Athletic Conference (WCAC) play. Both Bullis and Good Counsel represent two of the better football programs in Montgomery County.
Bullis was never threatened Friday evening by Bishop O'Connell's air or ground game. This Arlington team kept Bullis honest in the first half but eventually was worn down by the running attack of the Bulldogs. Both teams have mobile quarterbacks with O'Connell being led by Vincent Pizzano and Bullis by Tucker Strachan. The advantage went to Bullis who has wide receivers capable of making plays, which allowed the Bulldogs to take advantage with senior running back Devin Darrington.
Bullis led 14-0 at the half and Darrington sealed the win in the fourth quarter with a 12-yard run to make it 21-0 after the extra point conversion. The Knights of O'Connell were left with little time to manage any offense in the final quarter as Bullis defense stiffened to shut them down on a 4th down and long play turning the ball over to their offense to run out the clock.
Good Counsel Falcons, ranked #5 in the DMV by the Washington Post took on a rejuvenated seventh ranked St. John's Cadet team. This is the first of many big WCAC teams that include the triumvirate of DeMatha, Good Counsel and now St. John's in round robin conference play.
St. John's got off to a great start putting up 23 unanswered points by mid way in the 2nd quarter. Two quick Cadet touchdowns in the first quarter set the tone. Things just got worst for the Falcons when they were caught deep in their own territory as quarterback Travis Nannen dropped the ball in the end zone for a safety. Score 16-0 for St John's. Then with eight minutes left in the first half the Cadet's sophomore running back Keilan Robinson put St John's ahead 23-0 with his second of three scores on the afternoon. Good Counsel finally showed some spunk with a 80-yard drive scoring with 23 seconds left in the first half to make it 23-7. Fortune was looking their way, as the Falcons would receive the kickoff to start to second half.
On the first play from scrimmage in the third quarter, St. John's Darryl McDaniel would step in front of a Nannen pass for a pick 6 score to make it 30 to 7 in favor of the Cadets. A field goal, and a 66-yard run by Robinson with a missed extra point would move the third quarter scoreboard to 39 for St John's.  During the third quarter the Falcons would respond with 15 points on a 3-yard run and two-point conversion by Nannen and then a 34-yard breakaway by Mohammed Ibraheim. The third quarter fireworks ended with the score 39-22 in favor of the Cadets and would remain that way to the final horn.
St John's next week will travel to face their biggest challenge against DeMatha while Good Counsel needs to wait until DeMatha visits the Falcons on November 4th in a rare ESPNU televised high school match up in Olney.
Next week Friday Night Lights returns to Montgomery County action as Seneca Valley hosts Magruder.
© 2016 Photos | Fabrizio | for MCM
@PhotoLoaf®