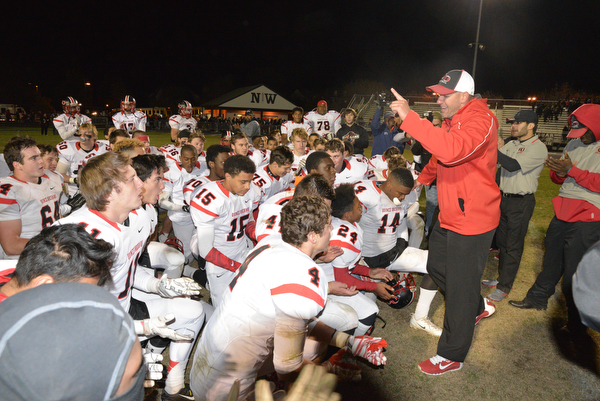 Friday Night Star-Lights
November brings a change of fortunes in high school football. Teams have that opportunity to step up and define how their story ends. Will it be redemption, an anointment, or a dream slipping away – tough choices in tough weather conditions – that's November football here in the DMV.
Saturday November 1 – Quince Orchard 52 Northwest 27
Star-Light: #5 Shawn Barlow – Quince Orchard Corner Back
Star-Light: #6 Kyle Green – Quince Orchard Running Back
Like geese flying south, the tweets between QO and NW had been squawking for weeks but nobody could see the perfect storm brewing along the Great Seneca Highway. Kudos to NW's athletic department and maintenance crew, they had their field in championship shape. Thankfully the predicted rain never materialized but the cold and a 25 mph gusting wind coming from the northwest did. This football stage on Great Seneca was set.
I am a sports portrait photographer, a quick observer on the sidelines. I don't pretend to be a sports beat writer so please bear with me as I use a variety of metaphors from the boxing world on what I witnessed in Germantown on Saturday night.
It happened too quickly. A QO fumble on the first series and a rapid possession exchange between both teams when suddenly it's QO with two 1st quarter TD's by the 1:35 mark and NW had been bloodied. Staggered, NW got up off the deck as NW's captain RB #23 EJ Lee goes 45 yards to make it 14-7 and the bout was on. With 20 seconds left in that same 1st quarter QO's RB #6 Kyle Green goes 75 yards in a counter punch to NW's gut. Mr. Mojo was back in QO's corner and the defending State Champ with the #1 Washington Post ranking got to taste what it's like to live with a title belt on their waist for the next three quarters.
I don't think any follower of high school football in the greater MoCo area expected the final outcome of what I called the Battle of Great Seneca – Part III (see my earlier blog). Perhaps it was part comeuppance or part payback or maybe Northwest hadn't really been pressure challenged until last week's Clarksburg game, but QO came to Germantown throwing knockout punches.
It was in the fourth quarter with 4 minutes left when I finally turned to "Mr. Stats" on the QO sideline and asked him how many yards Green had. Picture Mr. Stats using a pad and pencil to record each yardage play, saying "he has about 200- no more than 2 and a quarter". Officially Kyle Green had 205 yards and two TD's, he was a difference maker.
However, the real Star-Light hero that night lived on the "dark side", on QO's defense. It is QO Cornerback Shawn Barlow. He intercepted NW's QB Mark Pierce three times, returning the last one 30 yards for a pick 6 TD in the 4th quarter to put QO up 52-21 with about 4:50 left in the game.
NW is a gifted team blessed with the best QB in the MoCo in the name Mark Pierce and he has talented receivers. On Saturday the wind wasn't Mark's friend, nor the cold, he was 14-27 for 163 yards usually a good night. But tipped balls, sacks, fumbles, penalties and INT's going against a defense titled as the "dark side" all added up to a knock out.
The next Great Seneca "Thrilla" will be if both QO and NW win their next game and then advance through the first round of the state playoffs. NW will then have to travel 3 miles south on RTE. 119 (Great Seneca Highway) and at the intersection of RTE 124 Quince Orchard Road turn right and go 1 mile to the Cougar Dome for the Part IV edition of this great rivalry.
Go to my website http://sugarloafphoto.smugmug.com/MCMsports for complete photo coverage of this and past games.