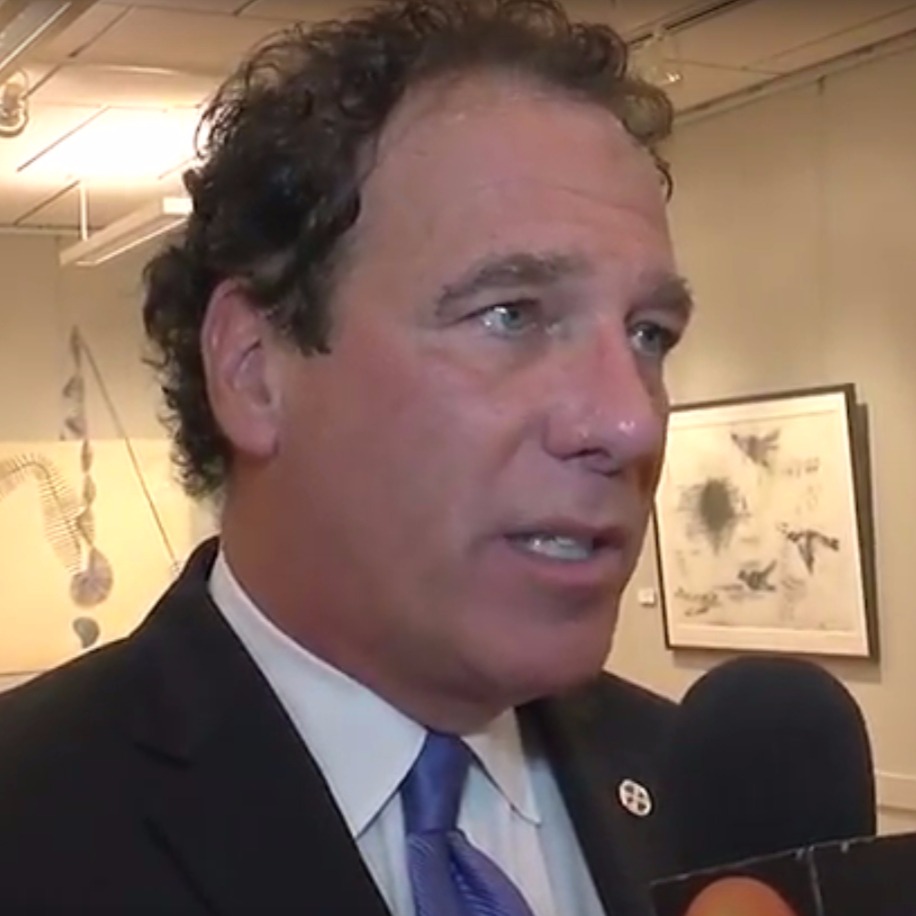 Friends, Colleagues Remember Kevin Kamenetz
Montgomery County Executive Ike Leggett released this statement on the passing of Baltimore County Executive Kevin Kamenetz:
"I am deeply saddened by the untimely passing of my friend Kevin Kamenetz. I worked closely with Kevin to win additional State school construction funding for our two counties and other jurisdictions throughout Maryland, as well as on transportation and environmental issues and in the Maryland Association of Counties.
"Kevin was a bold and effective leader in Baltimore County and a strong voice on issues affecting all Marylanders. More importantly, he was a good man. That is rare enough.
"His passing is a loss to Baltimore County, to Montgomery, and to the entire state.
"I send my heartfelt condolences to his wife Jill, to his sons Karson and Dylan and to all his family."
His friends, colleagues, fellow politicians — even the Ravens — took to Twitter to offer their remembrances:
Kevin Kamenetz lived an impactful life. He built an enviable list of accomplishments that supported his vision for the future of MD.

The loss of Exec. Kamenetz reminds us that our democracy needs formidable public servants—like him.

Deepest condolences to his family.

— Mileah Kromer (@MileahKromer) May 10, 2018
Kevin was an ardent supporter of Baltimore City, who was a regular in our restaurants, cultural venues and at our major team games. I considered him a friend and colleague, and admired him for his commitment to pursuing the best interests of Baltimore County residents, even

— Mayor Catherine Pugh (@MayorPugh50) May 10, 2018
This is the Kevin Kamenetz that I knew. Friendly, approachable,… https://t.co/4NlaCT7t0X

— Alan Bowser (@AlanBowser) May 10, 2018
June and I are devastated to hear about the loss of Kevin. I knew him for over a decade, and he was a thoughtful intelligent leader with a great sense of humor who always put his constituents first. Our thoughts are with Jill and the rest of his family. https://t.co/2AQgjzh7IE

— David Trone (@davidjtrone) May 10, 2018
Kevin Kamenetz was an honest and direct public servant who put the needs of his community before politics. He was a strong partner with the Maryland General Assembly on behalf of both his county and our state. He will be missed. My heart goes out to Jill and their boys.

— Mike Busch (@SpeakerBusch) May 10, 2018
The First Lady and I are shocked and grieved by the sudden passing of Baltimore County Executive Kevin Kamenetz. Our prayers go out to his family and many loved ones this morning.

— Governor Larry Hogan (@GovLarryHogan) May 10, 2018
Shocked and incredibly saddened to hear the news of the death of Baltimore County Executive Kevin Kamenetz. Sending prayers of comfort and strength to his wife Jill, his two young sons, and all of his family and loved ones.

— Brian Frosh (@BrianFrosh) May 10, 2018
Genuine shock and sadness on the passing of my friend Kevin Kamenetz. Prayers to his wife Jill and the entire Kamenetz family.

— Doug Gansler (@DougGansler) May 10, 2018
I'm shocked and saddened by the sudden passing of Kevin Kamenetz. One of the unexpected joys of this campaign had been getting to know Kevin's wonderful wit and humor. His perspective and dedication will be missed. My sympathies go out to Jill and his entire family.

— Rich Madaleno (@RichMadaleno) May 10, 2018
I saw Kamenetz frequently, as I covered him both as county executive and gubernatorial candidate. He was definitely burning both ends of the candle — he told me he drank Red Bull — but seemed OK. But sometimes you can't tell with heart disease.

— Pamela Wood (@pwoodreporter) May 10, 2018
I am deeply saddened by the sudden death of County Executive Kevin Kamenetz. My heart is with his family and the entire Baltimore County community. Kevin dedicated himself to our community and his good works are all around us. He will be deeply missed.

— Chris Van Hollen (@ChrisVanHollen) May 10, 2018
I'm incredibly saddened to learn of the passing of Baltimore County Executive Kevin Kamenetz.

He dedicated his life to public service, to making a difference, and he helped move Maryland forward.

My sincerest thoughts and prayers are with Jill and their two sons.

— Ben Jealous for Governor (MD) (@BenJealous) May 10, 2018
In 2015, after the unrest in Baltimore, "Kamenetz recorded a message urging county residents to return to the city to go to restaurants, museums and movies. He knew he would be pilloried for it by the city-phobic crowd among his constituents — and he was — but he did it anyway." https://t.co/MRD91JLlgF

— Luke Broadwater (@lukebroadwater) May 10, 2018
Ravens President Dick Cass on the passing of Baltimore County Executive Kevin Kamenetz: pic.twitter.com/VXx37doINf

— Baltimore Ravens (@Ravens) May 10, 2018
During Pam's interview with Kevin Kamenetz, he responded to a question about outsiders vs. career politicians:

"Let's say you have a heart ailment and your doctor refers you to a cardiologist, are you going to go to the career cardiologist, or someone who has no experience?" pic.twitter.com/VnTn2aZxwD

— Ulysses Mu??oz (@y00lz) May 10, 2018
Kevin Kamenetz's passing is a tremendous loss for Maryland. He was a dedicated public servant, and I considered him a friend. My heart goes out to Jill and his family, along with his many friends and staff.

— Jim Shea (@SheaforMD) May 10, 2018
Kevin Kamenetz was an energetic public servant who cared about making a difference for those he served. MD and I both just lost a friend.

— Senator Ben Cardin (@SenatorCardin) May 10, 2018
A recent photo of Kevin Kamenetz and his running mate, Valarie Ervin, the day they worked a shift at the Gaylord Resort. He brought passion, commitment and intelligence to his work. He had an intense focus but also a great laugh. His sudden passing is incredibly sad. pic.twitter.com/7uciy5Y8Dm

— Bruce DePuyt (@Bruce_DePuyt) May 10, 2018
Photo of Kevin Kamenetz last week in the @RoughlySpeaking podcast studio with his running mate, @ValerieErvin @baltimoresun pic.twitter.com/ouMb4EcukK

— Dan Rodricks (@DanRodricks) May 10, 2018