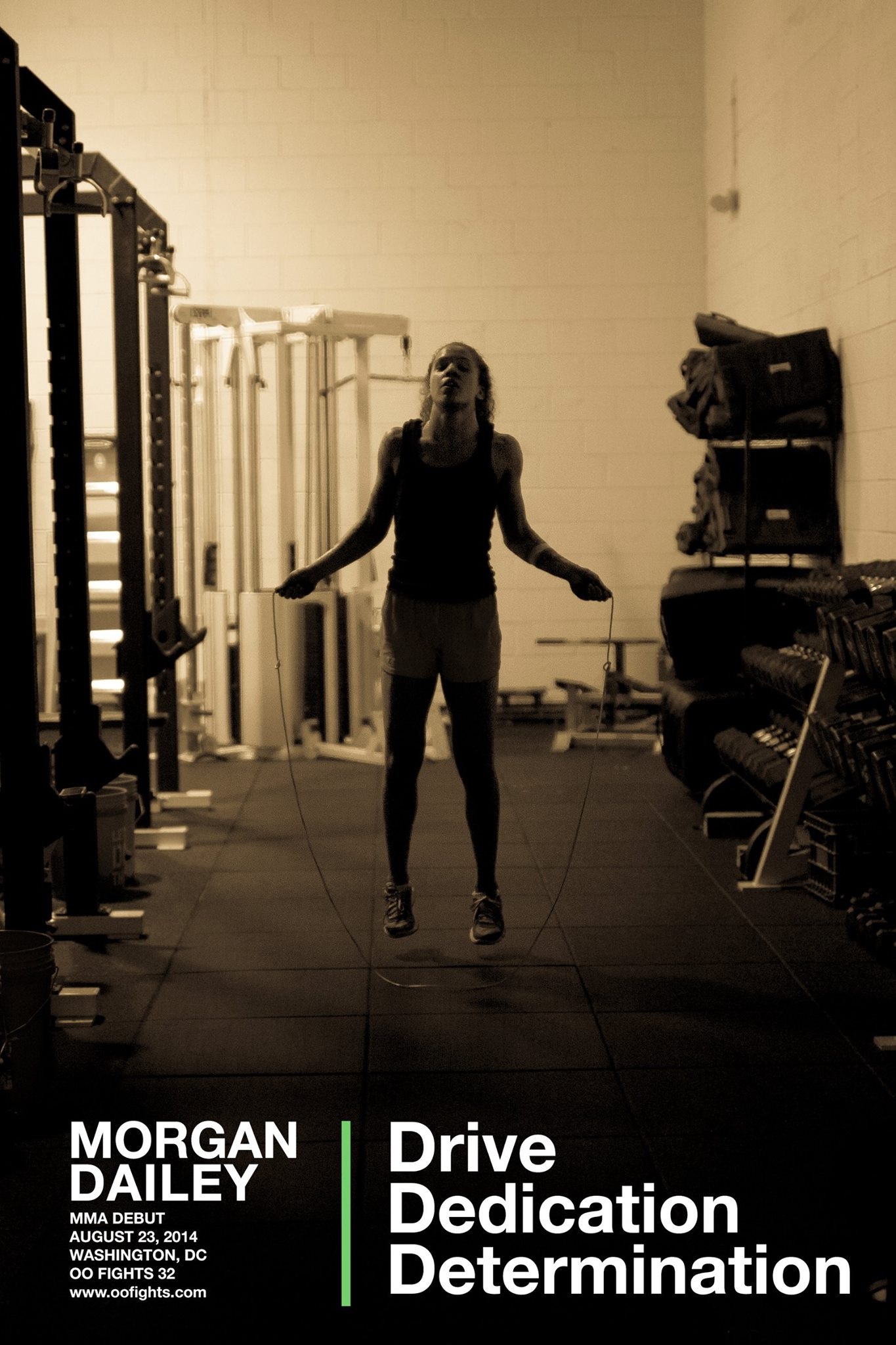 From Mom To MMA Fighter, Silver Spring's Morgan Dailey Makes her Debut
University of Maryland senior Morgan Dailey has a lot on her plate- work on her double major of criminal justice and global terrorism, an internship and caring for her one-year-old daughter. On Saturday she will also step into the cage to make her debut as a Mixed Marshal Arts fighter.
"At first I did it for a good workout," Dailey said from her home in Silver Spring.
But after winning two Jiu Jitsu tournaments last year and coming in third in a World Kickboxing Federation competition in Virginia, Dailey thought she might have what it takes to do well in an  MMA fight.
MMA is a hybrid martial arts full-contact sport where athletes compete in a cage and win either by knockout, by submission or by judge's decision. There are three, three-minute rounds. Dailey is scheduled to compete on Aug. 23 at the D.C. Convention Center,  in one of the region's amateur events.  Her opponent is MMA fighter Jocelyn Browning of Virginia who has one MMA battle under her belt.
To train for the event, Dailey works out at Pure Performance gym in Rockville and Disciple MMA Academy in Dulles, Va., two to three times a day.
"I feel prepared and confident in my training," she said. "I have a lot of people believing in me and supporting me."
Her mom, Janet Dailey said the competition will be tough to watch.
"I have to support her passion for it," she said adding that she will go to the arena in D.C. but might wait outside during the fight.
She and her husband Darnell have tried to get Morgan to participate in other sports, but Morgan's passion is in MMA.
"She has put her whole heart and soul into this and I support that. We can't make her love something the way she loves this. It is challenging as a mom but you have to support them," Janet Dailey said.
Morgan has always been an athlete. She was on the Good Counsel High School swim team in Olney and has participated in some club sports like horseback riding  and boxing at University of Maryland. A friend introduced her to MMA and she hasn't looked back.
Her trainer, pro MMA fighter Cisco Isata, said Dailey has a drive in her that is rare.
"I don't train a lot of people but there was something different about Morgan. When she wants it she goes for it," Isata told MyMCMedia Friday.
And, he likes her chances.
"I think she can go as far as she wants to" in this sport," Isata said.
He'll be in her corner during the match. And, it appears so will many others. Isata said about 100 of Dailey's supporters have purchased tickets for the event.
For more information about the event or to buy tickets log on to OO Fights website.