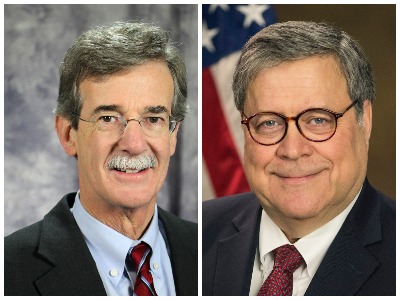 Frosh: 'Once You've Executed Someone, You Can't Take It Back'
Maryland Attorney General Brian Frosh disagrees with a federal plan to begin using the death penalty again, which Maryland abolished in 2013.
"We went through this debate in Maryland. The problem is the government makes mistakes, and when life and death is on the line, you can't afford to make mistakes," Frosh said.
"Once you've executed someone, you can't take it back," said Frosh, who lives in Chevy Chase.
The United States will resume using capital punishment, Attorney General William P. Barr announced Thursday. The last federal execution was in 2003.
Five men, who have been convicted of murdering children and the elderly, have been scheduled to die in the U.S. Penitentiary Terre Haute, Indiana, in December 2019 and January 2020.
In his statement, Barr said:
Congress has expressly authorized the death penalty through legislation adopted by the people's representatives in both houses of Congress and signed by the President. Under administrations of both parties, the Department of Justice has sought the death penalty against the worst criminals, including these five murderers, each of whom was convicted by a jury of his peers after a full and fair proceeding. The Justice Department upholds the rule of law—and we owe it to the victims and their families to carry forward the sentence imposed by our justice system.
Although the Maryland General Assembly has no bearing on federal cases, state lawmakers abolished the death penalty in 2013, substituting life without parole as the state's ultimate sentence. During the 2013 90-day session, the death penalty consumed much of the debate outside the House and Senate. Inside the chambers, opponents attempted more than 30 amendments to weaken the bill or provide loopholes.
Frosh was a state senator at the time, serving as chairman of the Judicial Proceedings Committee, where much of the debate took place. He noted the many people who have been jailed and on death row, and then exonerated, including Kirk Bloodsworth. Bloodsworth was on Maryland's death row for the rape and murder of a 9-year-old girl. He was later exonerated when DNA evidence proved another man guily.
Barr has directed the Federal Bureau of Prisons (BOP) to adopt a proposed Addendum to the Federal Execution Protocol. That addendum replaces a three-drug procedure used in federal executions with one, pentobarbital. Pentobarbital is a barbiturate that slows the activity of your brain and nervous system, according to drugs.com.
The drug has been used in more than 200 executions in 14 states. Federal courts, including the Supreme Court, have upheld the use of pentobarbital in executions as consistent with the Eighth Amendment, which prohibits cruel or unusual punishment.
Madeline Cohen, a defense attorney who represents prisoners on death row, questioned the means Barr is changing death penalty protocols, excluding the public from taking part in the rule making.
"They are going to do that without any transparent rule making at all. And that should give us all pause," she said.
The men who will be put to death are:
Daniel Lewis Lee, a member of a white supremacist group, who murdered a family of three, including an 8-year-old girl.
Lezmond Mitchell, who stabbed to death a 63-year-old grandmother and slit the throat of her 9-year-old granddaughter.
Wesley Ira Purkey, who violently raped and murdered a 16-year-old girl, and then dismembered, burned, and dumped the young girl's body in a septic pond.
Alfred Bourgeois, who physically and emotionally tortured, sexually molested, and then beat to death his 2½-year-old daughter.
Dustin Lee Honken, who shot and killed five people—two men who planned to testify against him and a single, working mother and her daughters, 10 and 6.
Each of these inmates has exhausted their appellate and post-conviction remedies, and currently no legal impediments prevent their executions, which will take place at U.S. Penitentiary Terre Haute, Indiana.  Additional executions will be scheduled at a later date.