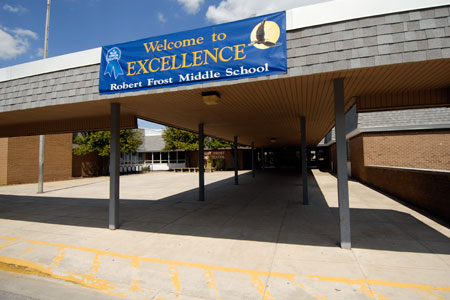 Frost MS Participates in National Leadership Program
Montgomery County Councilmember George Leventhal will be among the speakers on Friday, April 25, as students from Robert Frost Middle School in Rockville become the first County students to participate in the national Bonstingl Leaders for the Future leadership program.
The student service-learning and leadership development program is conducted by Bonstingl Leadership Development Worldwide, which is based in Columbia, Md. John Jay Bonstingl created the program based on the research in his best-selling book Schools of Quality.
The program will begin at 8 a.m. at Frost, which is located at 9201 Scott Drive in Rockville. Students will participate in the program in teams, with final presentations starting at 12:30 p.m.
Councilmember Leventhal will address the student leaders on the importance of developing personal leadership skills. He also will join Frost Principal Joey N. Jones and Andrew O'Connor, who will represent Mutual of Omaha and the business community, on a panel that provides feedback to the student teams.
"Leadership starts with dynamics of working as part of a team, and it is never too young to start grooming our future leaders," said Councilmember Leventhal. "Leaders, however, need to learn the skills and tools that go into making decisions that will impact many people–or even a small group. This program is a great forum for introducing our students to these situations and I am glad to share some of my experiences from 12 years of being a member of the County Council."
The program is being provided at no cost to Frost Middle School by a grant provided by the National Association of Middle School Principals and the organization's corporate sponsors.