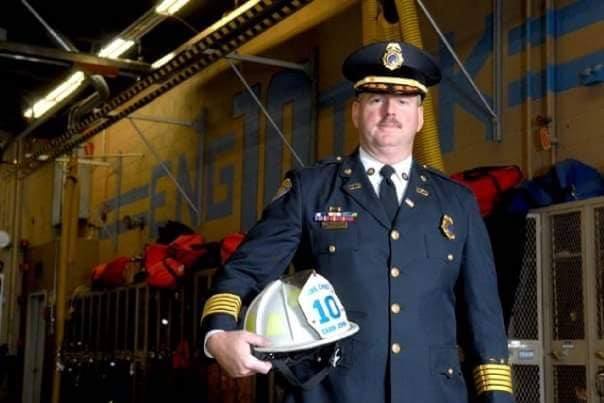 Funeral Arrangements Set for Beloved Retired Fire Chief
Funeral arrangements have been finalized for Cabin John Volunteer Retired Fire Chief James Seavey, Sr.
According to the Cabin John Park Volunteer Fire Department's Facebook page, a memorial service will be held at the Washington National Cathedral on Friday, Sept. 14.
A reception will follow the memorial service at the Bethesda North Marriott Hotel and Conference Center in Rockville.
Capt. James Seavey Sr., 58, died on Sept. 4 after years of battling non-Hodgkins lymphoma. He served as a first responder in the Washington D.C. area for more than 40 years.
As a career firefighter, Seavey served with the D.C. Fire and EMS Department for 30 years before retiring in 2016.
He rose to the rank of Assistant Chief before moving to the Cabin John Park Volunteer Fire Department and took office as Fire Chief on Jan. 1, 1992. He held the post until retiring Dec. 31, 2017, according to his obituary.
Pete Piringer, spokesperson for  Montgomery County Fire and Rescue, described Seavey as a "fun and loving guy."
"You always knew he was in the room because you could hear him first," Piringer said jokingly. "He will be missed."
We are deeply saddened to learn that early this morning, Chief James P. Seavey Sr. passed away surrounded by his family and loved ones. More updates and information regarding his memorial service are to come.

Rest in Peace, Chief Seavey.

— Cabin John Park VFD (@CJPVFD) September 4, 2018
NOTICE: Memorial Service For Chief James P. Seavey, Sr @mcfrs @CJPVFD @dcfireems – Friday 9/14, 10a, Washington National Cathedral, 3101 Wisconsin Av, NW Washington, DC; Reception Immediately following Bethesda North Marriott Hotel & Conf Center – 5701 Marinelli Rd, Rockville pic.twitter.com/04MrmdgMWh

— Pete Piringer (@mcfrsPIO) September 10, 2018
DC Fire And EMS mourns the loss of Retired Captain James P. Seavey, Sr. who passed away this morning, Tuesday, September 4, 2018. Captain Seavey was appointed on May 27, 1986, and was assigned to Truck 1. He retired on January 9, 2016, as the Captain of Truck 11. Rest in peace!
. pic.twitter.com/DtJYfpa0oI

— DC Fire and EMS (@dcfireems) September 4, 2018