Funeral Held in Rockville for Officer Killed on I-270 (VIDEO)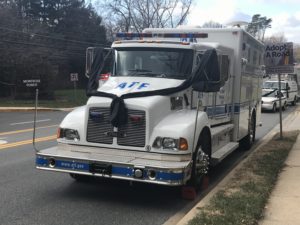 An off-duty law enforcement officer who was killed last week was described as a compassionate man who loved to make people laugh, mourners recalled at his funeral on Thursday.
Sander B. Cohen, who also served as Deputy Chief Fire Marshal with the Maryland State Police and a volunteer with the Rockville Volunteer Fire Department was struck and killed while standing on the shoulder of I-270 at the scene of a single-vehicle crash.
According to police, Cohen offered assistance to the driver of a disabled car who was identified as FBI Supervisory Special Agent Carlos Wolff.
Both men were fatally struck and killed by a driver traveling southbound.
Wolff's funeral was held on Thursday at the Church of the Redeemer in Gaithersburg.
Friends of Cohen told those attending the service at B'Nai Israel in Rockville, that Cohen was an amazing man who "dedicated his life to helping others."
"He stood out among his peers," Pete Piringer, spokesperson for Montgomery County Fire and Rescue Services, said.  "He volunteered and worked for the state and was very involved in training, and professional development."
Following the service, Cohen took his last ride in an antique fire truck escorted by a procession of emergency vehicles to Judean Memorial Gardens in Olney where he will be laid to rest.
Cohen, 33, was a member of the Office of the State Fire Marshal for nine years.