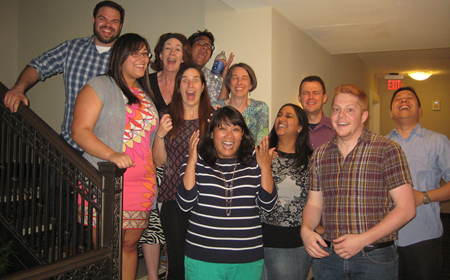 "A Cappella Festival" Set for Aug. 16
Enjoy an evening of unaccompanied music by Pitches Be Crazy, Impitched, Tomorrow's Harmony, Snowday, and The A Cappella School Summer Youth Ensemble at the "A Cappella Festival." The free event takes place on Saturday, Aug. 16 at 7:30 p.m. at Gaithersburg's City Hall Concert Pavilion, 31 South Summit Avenue. The Pavilion features lawn seating, so please feel free to bring a blanket or lawn chair.
Pitches Be Crazy, based out of Springfield, Virginia, shares its rock, hip-hop and R&B covers. Inspired by the recent phenomenon of a cappella in the main stream media with The Sing-Off and Pitch Perfect, these long time music fans make their own beautiful "noise," creating an ear bending sound that is fused with bone rattling bass, urban rhythms, fantastic harmonies, and vocal blends.
Based out of Washington, DC, Impitched is a semi-professional, mixed-gender a cappella group whose members hail from all over the world. Featuring singers of different ages and a variety of professions, the group is as diverse as its repertoire. Tomorrow's Harmony, a new six-man a cappella group based out of the Northern Virginia/Washington DC area, performs a wide variety of music genres from R&B to country.
Snowday will end the evening with high-energy and positive music. With inventive arrangements, skillful vocal percussion, and plenty of humor, their show is a memorable adventure that consistently receives rave reviews. Snowday was founded in 2008 with the mission of bringing a cappella and vocal music into mainstream education and as part of the Class Acts Arts roster. The group travels to dozens of schools each year, most recently to Russia as Arts Envoys with the U.S. Department of State. Snowday will perform several collaborative songs with students from The A Cappella School Summer Youth Ensemble.