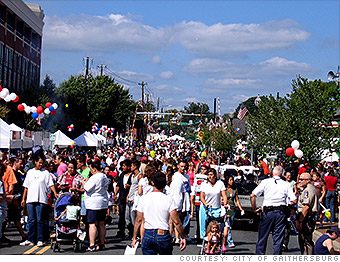 "Best Places to Live"
The City of Gaithersburg, Maryland recently ranked #23 on a list of 100 Best Places to Live, compiled by CNN/Money Magazine to highlight America's best small cities for families (populations between 50,000 and 300,000).  Gaithersburg also made the list in 2010, coming in at #25, in 2008, coming in at #29, and in 2005, coming in at #17.
The rankings take into consideration such criteria as family purchasing power, median home price sales, student test scores, job growth, air quality, incidents of personal and property crimes, commute times, and access to arts and leisure activities.
On its website, CNN/Money Magazine notes that "The National Institute of Standards and Technology, IBM, and Medimmune are just some of the many employers in this quaint city near both Washington, D.C., and Baltimore, whose unemployment rate was just 4.9% as of May. Still, many residents choose to forge their own career paths — Gaithersburg is widely considered one of the best places to start a business. Other perks include terrific schools and a diverse population."
Other communities in Maryland making the list in 2012 include Columbia/Ellicott City at #8 and Germantown at #24.
"We've long believed Gaithersburg is a great place to live, work, learn, and play, but it's gratifying to know when our efforts are recognized and validated by those outside of our community. We could not have achieved this recognition without an active and involved citizenry and a dedicated staff." -Mayor Sidney Katz.
Details on the 2012 CNN/Money Magazine ranking are available at http://money.cnn.com/magazines/moneymag/best-places/2012/top100/. For more information on Gaithersburg visit the City's website at www.gaithersburgmd.gov.