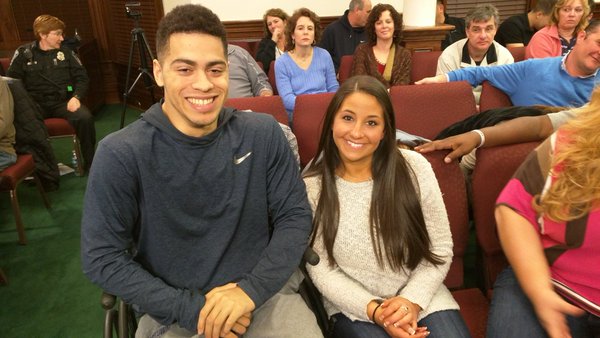 Gaithersburg City Council Recognizes Former Quince Orchard High School Athlete (PHOTOS & VIDEO)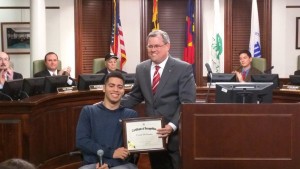 Dozens of residents turned out for a Gaithersburg City Council meeting on Monday night to honor a former Quince Orchard High School football player.
The meeting took place at Gaithersburg City Hall which is located on 31 South Summit Avenue.
The City Council had a full agenda for Monday night's meeting, but the biggest draw for the evening was 20 year old Tyrell "Ty" Williams. Williams, a former football player at Quince Orchard High School, graduated in 2013 and enrolled at Georgetown University where he continued to play football.
Williams suffered serious neck and spine injuries during the first game of the 2015 season. After undergoing surgery, Williams spent three months at the Shepherd Center in Atlanta. He returned home in December continue his studies at Georgetown University.
Williams' mother, Melissa Rand, and father, Terrence Williams, watched as their son was honored by Gaithersburg Mayor Jud Ashman and the City Council.
Take a look at the pictures and video of the City Council meeting below.
Congratulations on your hard work and inspiration, @ty1will! pic.twitter.com/OwKCHDvSZ3

— City of Gaithersburg (@GburgMD) March 8, 2016
.@GburgMD Council & @judashman are"rooting" for speedy recovery of @ty1will who was injured while playing football. pic.twitter.com/D0hsWV1IIw

— Willie James Inman (@imwilljames) March 8, 2016
Ty Williams & his family say they are extremely thankful for the outpouring of support from @GburgMD @mymcmedia pic.twitter.com/BUzlJQN6WH

— Willie James Inman (@imwilljames) March 8, 2016