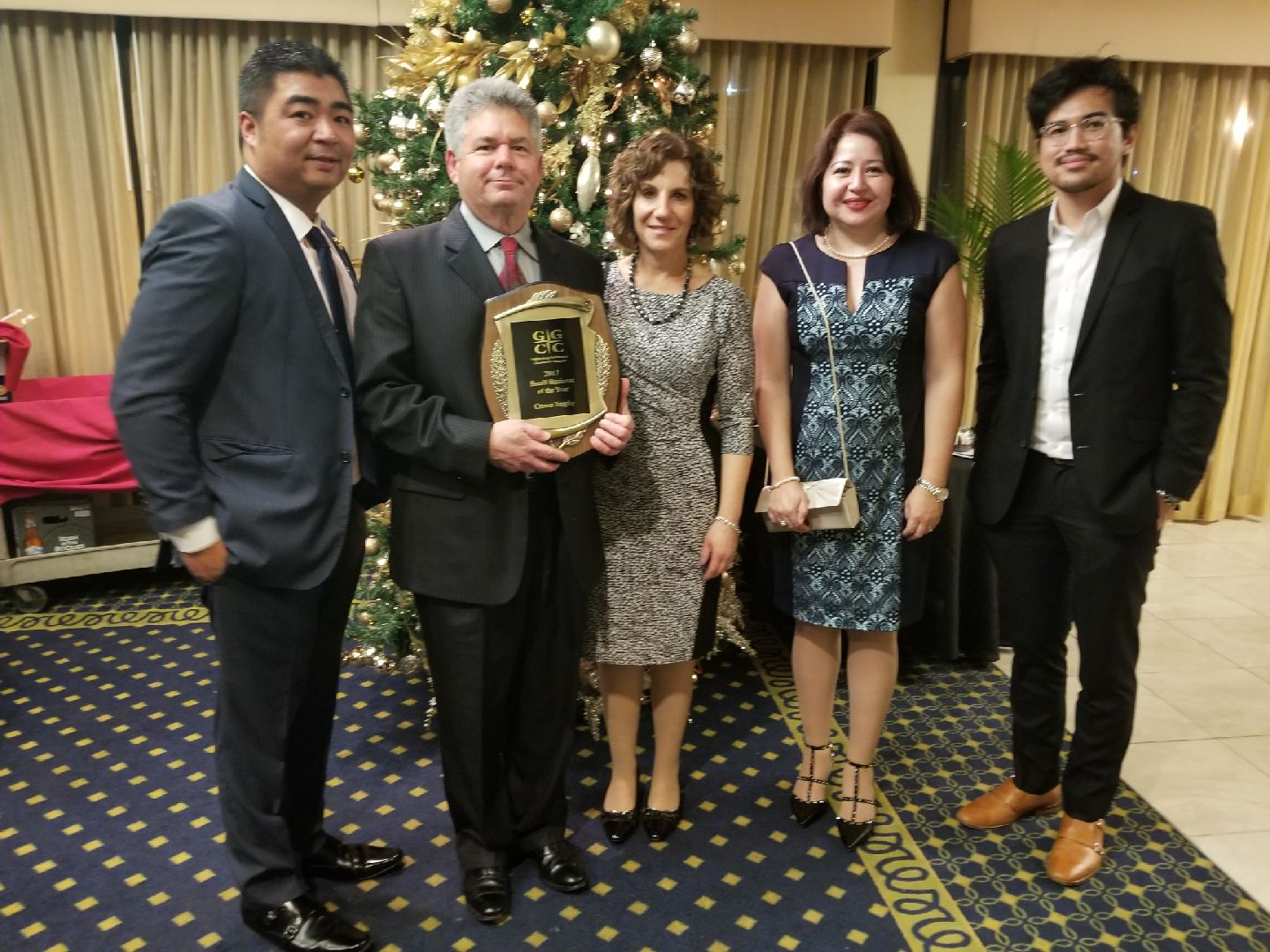 Gaithersburg-Germantown Chamber Announces the 11th Annual Small Business of the Year Recipient
The Gaithersburg-Germantown Chamber (GGCC) awarded Crown Trophy Gaithersburg as the recipient of the 11th Annual Small Business of the Year Award (SBY) on December 7, as a part of their Annual Celebration Dinner & Awards Ceremony. The award was presented by Eric Myers with M&T Bank.
"The Crown Trophy story is a great small business story. It is a story of hard work, dedication, and a family coming together to create a business. We are honored to recognize Martin and his team for their efforts," said Marilyn Balcombe, GGCC President and CEO.
The Small Business of the Year Award recognizes small businesses, which are a vital part of our economy and community. The award is presented to the small business that demonstrates success, community involvement, and excellent customer relations.
Crown Trophy of Gaithersburg is the Chamber's Small Business of the Year for their growth and commitment to their customers and community for the past eighteen years. The trophy and plaque business is like no other. Crown Trophy brings excitement and joy to children and adults alike when they are recognized for both small and large accomplishments. Crown Trophy employs seven full time employees who are all sincerely dedicated to our customers' needs.  Many of the employees are family members who enjoy working together in a friendly atmosphere.  In a time when consumers can go online and order virtually anything, Crown Trophy has retained customers over the years based on superb customer service and quality products.
It was the 90's, and Martin Hollander was in the auto parts business when he saw the writing on the wall that the auto parts business was changing and decided to look for something different. He discovered Crown Trophy in an Entrepreneur magazine that was ranked in the top 500 franchises. It peeked his curiosity and he thought it was a "unique type of business". He purchased a Crown Trophy franchise, traveled to New York for new owner training, and then Crown Trophy of Gaithersburg was born in June of 1999.
Here is where their story gets cool – Hollander's father helped with the build out of the work area and friends and family were some of their first employees. That first year, his wife, children and Hollander made trophies at their kitchen table until the wee hours of the morning to meet deadlines for their first baseball order.  Nine years ago, they doubled their space by taking over the unit next door to theirs in the Airpark. As the business grew, they added more full-time employees to keep up with production and customer's needs. They have expanded their product line to include banners, signs, and full color printing on awards. Crown Trophy of Gaithersburg has been one of the top ten Crown Trophy franchises in the country for the past ten years.
Crown Trophy of Gaithersburg is also involved in the community and likes to give back when they can. They have sponsored various local sports teams in the past. They donate the awards for the Leukemia & Lymphoma Society, and have done so for the past five years. And they donate the awards for the annual gala for Hospice Caring. As well as sponsoring a myriad of other local non-profit organizations.
Crown Trophy has been a Gaithersburg-Germantown Chamber Member for eighteen years and has supported and continues to support us in many ways.
Learn more about Crown Trophy at: www.crowntrophy.com.
The GGCC is active in providing business-to-business networking opportunities throughout the year: a collective voice in local, regional, and state legislative affairs, professional development opportunities and other services that enhance the business environment.
The GGCC is located at 910 Clopper Road, Suite 205N, Gaithersburg, MD. To learn more about the GGCC visit us at www.ggchamber.org. Find us on Facebook at: http://www.facebook.com/pages/Gaithersburg-Germantown-Chamber-of-Commerce/64339954570. And on Twitter at @GGCCNEWS.