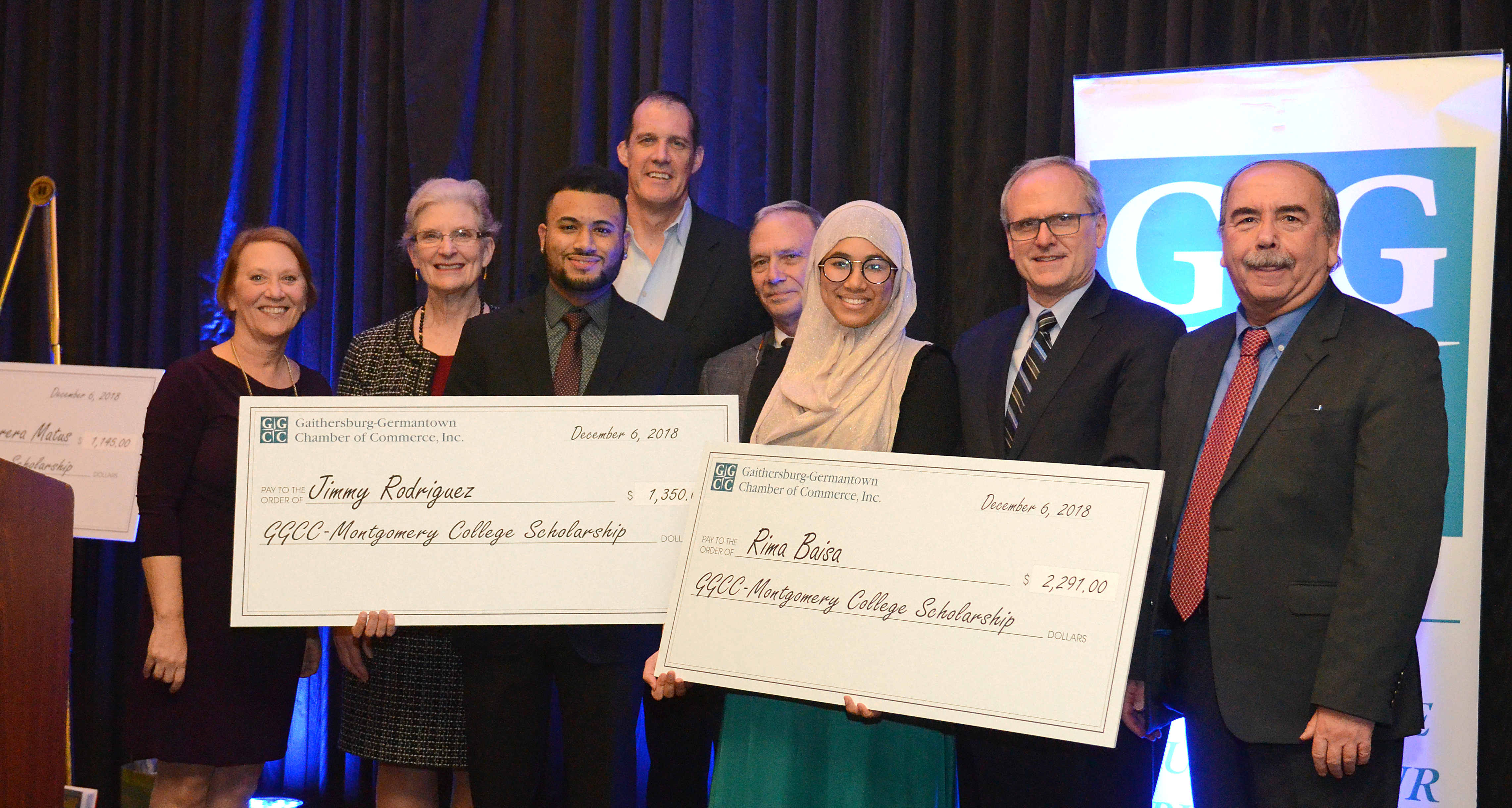 Gaithersburg-Germantown Chamber Awards Over $4,500 in Montgomery College Scholarships
The Gaithersburg-Germantown Chamber of Commerce (GGCC) is proud of its Montgomery College Scholarship Program. Our local economy relies on an educated workforce.
The Chamber Scholarship provides financial assistance to Montgomery College students pursuing higher education. Each year, with the help of its donors, the Chamber awards students Montgomery College Scholarships at its Annual Celebration Dinner & Awards Ceremony.
"The Chamber is proud of our Montgomery College Scholarship Program. No other investment yields as great a return as the investment in education. At the Chamber, we know that our local economy relies on an educated workforce. To date we have raised roughly $180,000 & awarded 96 scholarships to current students and established an endowment for future students," said Marilyn Balcombe, President / CEO, Gaithersburg-Germantown Chamber.
While the Chamber is very proud of our accomplishments, the GGCC could not have done it without the leadership of Jim Muir, Vice President at Hughes Network Systems. Muir, along with Margaret Latimer, Vice President and Provost, of Montgomery College Germantown Campus, took the stage at the Hilton Gaithersburg to award three scholarships.
The Chamber awarded $4,786 in scholarships to three Montgomery College students, with different majors– computer engineering, bioengineering and computer science.
"On behalf of the GGCC, we would like to thank all of the companies and individual contributors that support the foundation," Muir said. "We could not make this happen without you. Doug Wrenn, a past chair of the Chamber and most recently the outgoing Chair of the PICMC Foundation would say – If you want to go fast go alone – If you want to go far go together. The evolution and journey of the Chamber Scholarship has been one of togetherness.  It has been a collective effort and a testament that you can go fast and far with the right team."
Rima Baisa, Jimmy Rodriguez,and Karen Herrera Matus were each awarded a scholarship to continue their studies at Montgomery College. Baisa and Matus addressed the crowd at the event, explaining how thankful they were for the scholarship and how it will help offset their college expenses.
Rodriguez is in computer science student with a 3.07 grade point average. He serves as the current president of the software development club. He received a Chamber scholarship to offset his fall semester tuition. For the upcoming spring semester, he has been selected, as a Montgomery College student, to receive the Services CyberCorps Scholarship. This program seeks to prepare students to enter the Federal, State and local workforce as a cyber-security practitioner. The Scholarship includes tuition, fees, professional allowance and a stipend. His plan is to earn his associate's degree at Montgomery College and then transfer to the University of Maryland Baltimore County (UMBC) to earn his bachelor's degree.
Baisa is a bioengineering student and is very active at Montgomery College. She was the founder of the Montgomery College Student Chapter of the Association of Latina Professionals for America. She also serves as vice president. She is an active member in the Montgomery College Honors club, and the Muslim Student Association, where she serves as president.
Herrera Matus is majoring in computer engineering with a 3.59 GPA. She has applied for graduation this month and has been accepted to the A. James Clark School of Engineering at University of Maryland College Park for the upcoming spring.
"I am so proud of the Chamber's scholarship program," said Balcombe. "We will continue to provide financial resources to students in need. It's a great gift that our chamber members have given to the future students of Montgomery College."
In addition to funding current scholarships, the Chamber has established an endowment for future giving. Last year, the Chamber hit their target of $100,000 and are now at $126,000 and growing. This will ensure that the GGCC continues to support Montgomery College into the future.
" I would like to take the time to acknowledge the Gaithersburg-Germantown Chamber of Commerce for the $180,000+ they have awarded Montgomery College students in scholarships over the years", said Latimer.
Latimer recently shared a thank you note from one of the the fall 2018 recipients. One student wrote, "This scholarship has made a significant difference in my life….not only did the Chamber support me financially, but it has also led me to networking opportunities… [Your] kind generosity encourages me to not only do my best every day academically but to also help others who are in need.  I look forward to the day when I find employment so that I may pass along the gratitude that I have received as a student. This scholarship has enabled me to find my voice as a student leader and an advocate for those who are less fortunate….I cannot overstate the profound impact this scholarship has had on my academic and personal growth."
Latimer said, "like this student, I struggle to find the words to thank the Chamber adequately for its support of Montgomery College students as they embark on a life-changing journey."
At the conclusion of the program, Muir said "with the high cost of a college education today many young people are graduating with significant debt or giving up the dream of going to college altogether. Thank you for supporting the dreams of the future of tomorrow."
To make a donation towards the "GGCC – Montgomery College Scholarship Foundation", visit www.montgomerycollege.edu/alumni-friends-donors/foundation/. Please note that the donation is from the "GGCC" when completing the online donation. Montgomery College has 54,000 students across three campuses and online; has awarded $50 million in financial aid annually; and there are 165 countries represented by student population. To learn more about the college, visit: www.montgomerycollege.edu.
—-
The GGCC scholarship committee is chaired by GGCC Board Member & Hughes Network Systems Vice President Jim Muir. Muir manages donations yearly from Chamber Members and GGCC Past Chairs who step up every year and make individual and personal donations.