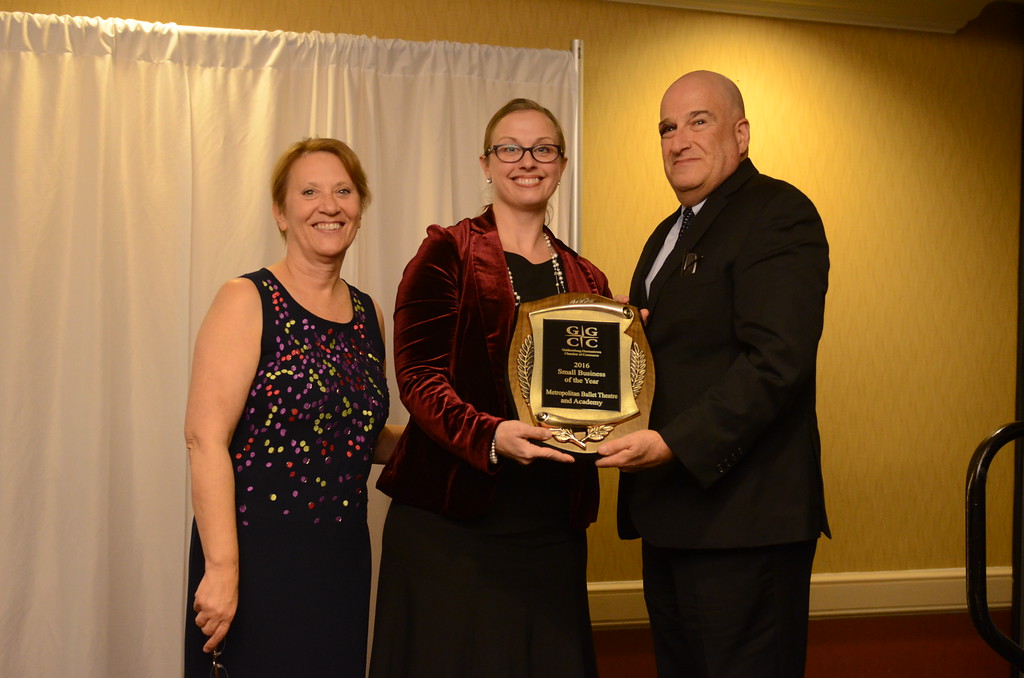 Gaithersburg-Germantown Chamber Awards the 10th Annual Small Business of the Year Award
The Gaithersburg-Germantown Chamber (GGCC) awarded Metropolitan Ballet Theatre and Academy (MBT) as the recipient of the 10th Annual Small Business of the Year Award (SBY) on December 8 as a part of their Annual Celebration Dinner & Awards Ceremony. The award was presented by Bruce Kanner, Owner of Cartridge on Wheels and the 2011 recipient of the Chamber's Small Business of the Year Award.
"We are thrilled to award Metropolitan Ballet Theatre with our Small Business of the Year Award. This is the first time we have awarded a non-profit organization as our small business of the year. We wanted to highlight the terrific work they do and also honor the important role our non-profits have in our community. Not only is their mission important to the community, but they are also employers, customers, vendors who help support a vibrant economy." said Marilyn Balcombe, GGCC President /CEO.
The Small Business of the Year Award recognizes small businesses, which are a vital part of our economy and community. The award is presented to the small business that demonstrates success, community involvement, and excellent customer relations.
Metropolitan Ballet Theatre is a nonprofit arts organization founded in 1989. MBT is a growing, successful small business, dedicated to the community. They have an outreach program that provides free after-school dance classes, they donate dance footwear, they strive to reach underserved senior neighbors who might not have the opportunity to see live dance performances by performing excerpts of The Nutcracker at senior centers each year and they provide free performance tickets to underserved members of the community to attend a live ballet performance.
MBT teaches dance education, holds performance, and conducts outreach; They train approximately 450 students in ballet, jazz, modern, tap and hip hop through at their Academy in Gaithersburg. For their commitment to bringing arts education to the community with performances and outreach -so everyone can experience the arts– they are awarded the Small Business of the Year.
Learn more about Metropolitan Ballet Theatre and Academy at: www.mbtdance.org.
The GGCC is active in providing business-to-business networking opportunities throughout the year: a collective voice in local, regional, and state legislative affairs, professional development opportunities and other services that enhance the business environment.
The GGCC is located at 910 Clopper Road, Suite 205N, Gaithersburg, MD. To learn more about the GGCC visit us at www.ggchamber.org. Find us on Facebook  and on Twitter @GGCCNEWS.